Obituaries
William Henry Stephens, Sr.
Jan 3, 2019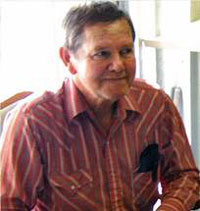 Bonham, Texas -- Funeral services for William Henry Stephens, Sr., 79, of Ivanhoe, Texas will be at 2:00 p.m. on Sunday, January 6, 2019 at Ivanhoe Baptist Church. Bro. Bill Spann will officiate; interment will follow at New Hope Cemetery. Mr. Stephens passed away on Monday, December 31, 2018 at Medical City of McKinney surrounded by loved ones.

William Henry Stephens was born in Ivanhoe, TX on October 29, 1939 to James Vernon and Ruby Jewel (Keene) Stephens. He married Agnes Lucille (Staton) Stephens on July 5, 1964 in Oklahoma City, OK; she preceded him in death on November 10, 2001. William served honorably in the United States Army. He was a truck driver, worked at General Cable and retired from LOF Glass Mfg. of Sherman. William was a loving husband, father, grandfather, and brother. He was a member of Ivanhoe Baptist Church.

He is survived by children, Stacy Stephens of Ivanhoe, TX; Jennifer McDaniel of Pickton, TX and Mitchell Stephens of Ivanhoe, TX; grandchildren, Cory Stephens, Ashley Cole, Kevin McDaniel, Brandon McDaniel and River McDaniel; great-grandchildren, Syrena Cole and Aubrey Cole; brothers, Kenneth Stephens of Bonham, TX and Harold Stephens of Ravenna, TX; and sister, Wilma Jones of Greenville, TX.

Also preceding him in death are his parents; son, William Stephens, Jr.; daughter, Cheryl Stephens; sisters, Dorothy Lamb and Mary Ann Fackler and brother, James Stephens.

Serving as pallbearers will be Kerry Stockton, Cory Stephens, Brian McDaniel, Adam Stephens, Randy Stephens and Richard Stephens.

Family visitation will be held on Saturday, January 5, 2019 at Cooper-Sorrells Funeral Home Bonham, Texas from 6:00 p.m.-8:00 p.m.

To convey condolences or sign an online registry, please visit www.coopersorrells.com.