Lifestyles
Retirement party held for Derrell Hall
Jan 7, 2019
Fannin County, Texas -- It isn't every day that a person earns the right to celebrate a retirement party in a building named after them. But then it isn't every day that a native son dedicates three-and-a-half decades to the county where he was born, works his way to the top of county government and then retires with even more friends than he had when he started.
"Each one of you has made a huge difference in my life," Derrell Hall remarked as he looked around the room.
If the overflow crowd was any indication, the feeling was mutual.
In a 34-year career with Fannin County, Mr. Hall wore a lot of hats.
"He's had a lot of jobs and he's done them all well," remarked livelong friend Andy Walker.
Probation officer, commissioner, county judge -- intense, demanding jobs every one, but none of them changed the thoughtful and cheerful demeanor of Hall as he went about his work.
"People are about as happy as they want to be," explained Hall. "I choose to be happy."
The happiness of his young family and growing children has always been equally important and that is one of the primary reasons Hall decided in 2007 to spend less time wrestling with county issues and spend more time around the people he loved.
"I'd like to devote more time to my family," Hall said in an interview 11 years ago after announcing his retirement from public office.
That family surrounded him at his retirement party.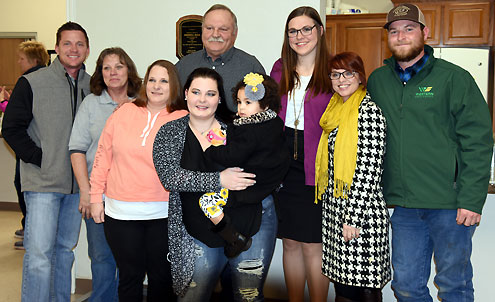 Derrell Hall and family
After retiring as county judge, apparently Hall found intense satisfaction in his role as adult probation officer.
"I looked forward to coming to work every day," Hall said.
Fannin County Adult Probation Director Debra Roberts recalled how helpful and kind Hall was as she took the reins of the department.
"We are going to miss you," Ms. Roberts said sincerely.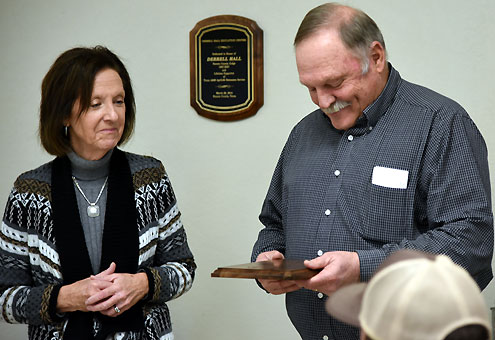 Debra Roberts, Fannin County Adult Probation Director, presents Derrell Hall with a plaque commemorating his 34 years of public service to Fannin County.
"When I first ran for commissioner, I intended to do that job for a term or two," confided Hall. "In my wildest dreams, I never imagined that I'd be standing here today. But it's been a great 34 years."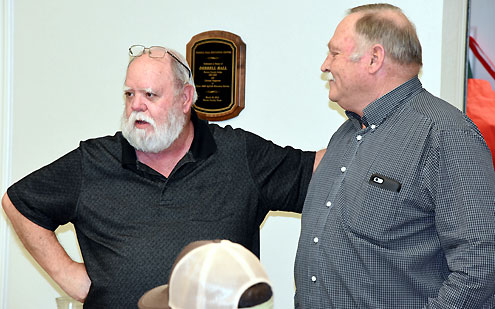 "Everything Derrell Hall did, he did for the betterment of Fannin County," stated Butch Henderson, the man who succeeded Derrell Hall as county judge.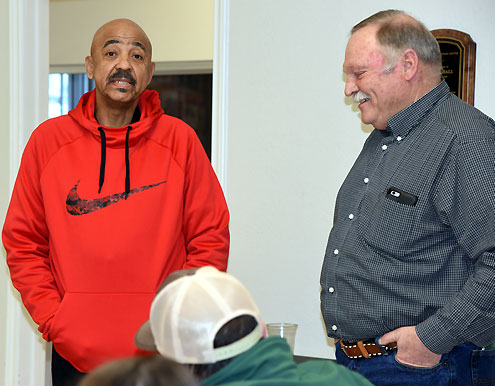 David Johnson and Derrell Hall.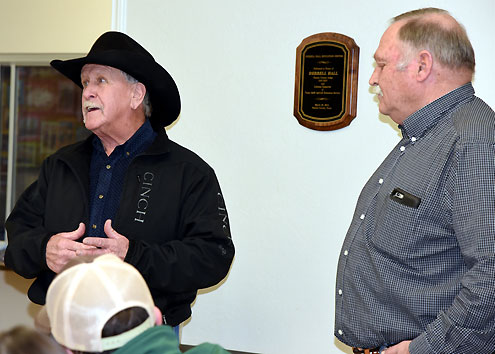 Fannin County Pct. 1 Commissioner Gary Whitlock and Derrell Hall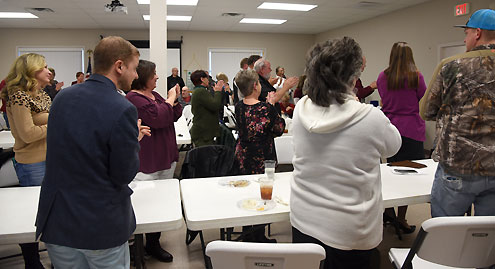 The crowd gives Derrell Hall a standing ovation.
photos by Allen Rich