Obituaries
Kenneth Day Grammer
Jan 8, 2019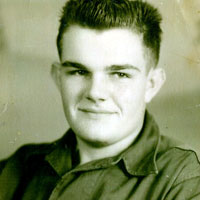 Trenton, Texas -- Kenneth Day Grammer, 83, of Trenton went to his heavenly home January 1, 2019 at the age of 83. He was born July 2, 1935 in Randolph, Texas; he was the son of J.D. Grammer and Pauline Martin.

In his early years Kenneth finished high school and went straight into the Marines to serve the United States during the Korean War. Following the war, he came home and married the love of his life Wanda. Together, they started a family.

Kenneth worked many years at the machine shop in Trenton, Texas. His later years were spent working at Magers Food store where he always greeted customers with a smile. In his spare time, he loved going from flea market to flea market buying, selling and trading things. One of his favorite things, in his later years, was heading out to Choctaw casino to have a little fun. Most days, you could find Kenneth sitting on his front porch waving as the cars passed with his furry companions at his side. He loved his family unconditionally.

Those he leaves behind to cherish his memories are, his son Kenneth Grammer and wife Teresa of Ponder, Texas; son, Rickey Grammer and wife Frances of Trenton, Texas; grandchildren, Serena Wilson and husband Scott of Albuquerque, New Mexico, Frank Howell and wife Christina of Thackerville, Oklahoma, Amanda Leyva and husband Brandon of Ringwood, Oklahoma, John Leyva of Ardmore and Rachael Grammer and husband Troy of Ponder, Texas; 12 great grandchildren; brother, Bobby Grammer and wife Carolyn of Fort Worth, Texas; and niece Gina Schuler of Fort Worth, Texas.

He was preceded in death by his wife Wanda, daughter Linda Webb and parents, J.D. Grammer and Pauline Martin.

Funeral services will be held 2:00 p.m. Wednesday, January 9, 2019 at Mullican-Little Funeral Home, Bells, Texas. The family will receive friends for a visitation Tuesday, January 8, 2019 from 4:00 p.m.-6:00 p.m. at Mullican-Little Funeral Home, 754 State Hwy 56 East, Bells, Texas 75414.