Obituaries
Norma Jean Hamby
Jan 8, 2019
Bonham, Texas -- Funeral services for Norma Jean Hamby, 83, of Bonham will be held at 2:00 p.m. Thursday, January 10, 2019 at Boyd Baptist Church under the direction of Wise Funeral Home. Burial will follow in Willow Wild Cemetery. Rev. Mike Allred and Rev. Lyn Holly will officiate. Norma passed away Monday, January 7, 2019 at her residence.
Norma was born August 30, 1935 in Ector, Texas, the daughter of Olen Lee Birdwell and Sarah Leora "Sally" Potts Birdwell. She attended schools in Ector (1942-1944) and Bailey (1945-1949). The family then moved to the Boyd Community and she graduated Bonham High School in June 1953. Norma married Glenn Hearld "Wink" Hamby on October 17, 1953 in Yuba, Oklahoma. After 55 years of marriage, her beloved, Wink passed away Feb. 14, 2009. Norma began her career in bookkeeping at Hanes Equipment Center in Bonham. From there she went to Powell-Birdwell Ford Tractor, and finally she went to work for John Reece at Reece Electric (1982 – 1994). She then went to work for Bonham ISD in the Title I Program and served as Secretary from 1994 until 2001 when she retired.
Norma gave her heart to Jesus at the Ector Church in 1942 and was baptized in the old First Baptist Church in Bonham. She has been a longtime faithful member of Boyd Baptist Church since 1948 where she taught Sunday School for over 50 years and served in numerous other capacities. She was also a member of the Hospital Auxiliary "Pink Ladies" from 2001 until recently when her health prevented it.
She was preceded in death by her parents, two grandchildren, Matthew Hamby and Tiffany Marshall, daughter-in-law, Paula Hamby, and a sister, Lois Dean Stephenson.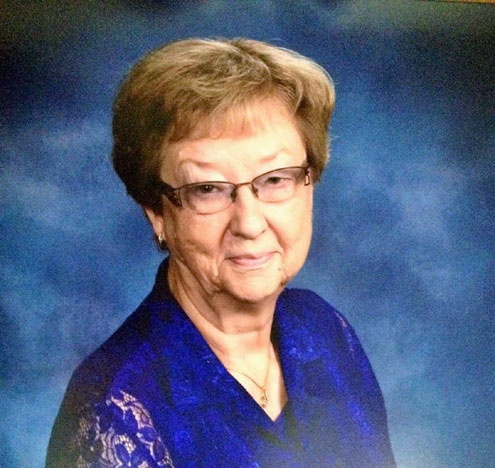 Norma is survived by her son, Lee Hamby of Ravenna, TX; two daughters, Vickey Waller and Stacy Mills and husband, Richard, both of Bonham, TX; four grandchildren, Autum Ertel and husband, Danny, Heather Bailey and husband, David, and Rachael Pearson, all of Bonham, TX and Shannon Little and husband, Mason, of Commerce, TX; five great grandchildren, Jaycie-Leigh Ertel, Blaiden Sha-hardin Ertel, Barret Marshal Ertel and Cody Ryan Starnes all of Bonham, TX and Maci Rae Little of Commerce, TX; longtime special friend, Mary Hayes, nieces, nephews, extended family, her church family and friends.
Pallbearers will be Deacons of Boyd Baptist Church. Honorary pallbearers will be the Pink Ladies.
The family will receive friends from 12:30 p.m. until service time Thursday at Boyd Baptist Church.
Online guest register www.wisefuneralhome.com