Sports
The Broken Stone Ranch, an outdoor paradise
Jun 29, 2019
For the past three decades, I have had the distinct privilege of 'connecting' with countless sportsmen and women who share my love of the natural world. Hunting, fishing or just spending time in the outdoors taking it all in is what makes many of us tick. Being in the great outdoors is our solace in what has become a pretty hectic world. One of my favorite aspects of being a full-time outdoors writer/radio show host is connecting folks with great destinations. There is no way I could recall all the places I've visited and great people I've met in the past thirty years, but I can certainly tell you about some great folks and an awesome outdoor destination I discovered this past week, located on Hwy. 80 just east of Grand Saline, Texas.
I received a call from Jimi Callender inviting me to come out to the ranch and meet the owners/managers and spend the day looking the place over. Jimi is an expert builder and for the past three years, has been constructing a series of well-appointed cabins, a big 'great room' for events and many other amenities that make the ranch a comfortable and relaxing destination.
From the time I drove up to the lodge and was greeted by owner Jeff Blankinship and his wife Courtney until I begrudgingly had to leave late that afternoon, I was made to feel welcome. This is a brand new hunting ranch that is just opening its gates and a spot you will want to 'bookmark' on your computer's favorites list!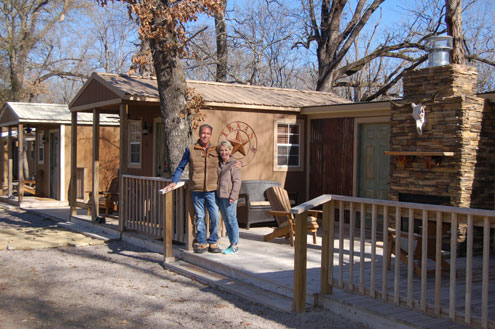 Jeff and Courtney Blankinship in front of one of their guest cabins at The Broken Stone Ranch near Grand Saline, Texas. photo by Luke Clayton
Turning an old sportsman such as I loose on a hunting and fishing paradise like the Broken Stone can be likened to turning a big rat loose in a cheese factory! We took a leisurely drive on an ATV and I looked over food plots, hunting blinds, fishing lakes and even a remote cabin that I need to learn more about. It looked like the type place where I could spend a few days, catching an occasional catfish for dinner and maybe taking an 'eater hog' for fresh pork chops. After spending a couple hours driving around the ranch, I knew I had only scratched the surface. This is the type place that will require multiple visits in order to learn just which of the lakes is best for catching catfish or where to connect with a bruiser largemouth. As we drove along on the ATV, my mind was fast forwarding to upcoming trips catching bass and catfish and putting a good-eater meat hog on the game pole. The tree stands positioned 20 yards from the feeding areas gave promise for next October and the opener of yet another bow season!
The area is known for some bruiser whitetail bucks and although the season has come to a close, I drooled at some of the trail camera pictures I was shown. Most readers of this column understand that I am a certified hog-hunting nut. It was obvious the ranch had a very healthy wild hog population, which to a guy such as I is not a bad thing at all! Every feeder was crisscrossed with hog trails and the many rubs on nearby trees fortified the fact that this was a great hog-hunting destination.
The ranch is owned and managed by folks with a great deal of knowledge concerning what makes a visit to such a ranch a truly memorable experience. Jeff Blankinship is a well-traveled hunter with a vast knowledge of hunting and fishing lodges; to coin and old phrase, he's "been there and done that." Jeff and Courtney definitely did their homework when designing and building their new ranch. I was honored to be invited to help them critique an already great plan they had in place for visiting guests. The next few months are prime time for hunting wild hogs. Most of the hard mast crops are long gone in the woods and porkers will readily come to a corn feeder. When asked to help design a hog hunt that would be well received by hunters, I was quick to point out that they already had the lion's share of infrastructures in place. Awesome hunter's cabins, feeders that were attracting hogs by the score, a place for the guides to skin and quarter the porkers, lakes for fishing during midday; a big fire pit to set around and recap the hunt; the stage is already set for some great winter hog hunting. Still, regardless how great the destination, this place is brand new and not many folks know about it… until now!
So, here's the plan we devised for hog hunters on the Broken Stone Ranch: Hunters show up in the afternoon in time to get settled into their cabin, enjoy a great evening meal and begin hunting the next day. Their hunt is two days in duration and a big brunch and evening meal is provided each day as well as transportation to and from the stands. Guides field-dress the hogs and will quarter the meat for a fee or hunters can do this work themselves. The Blankinships decided an opening 'special' price of $600 would be in order. The question I am most often asked this time of year, both by my fellow Texans as well as hunters from other states is, "Where can I find a good place to hunt hogs? Everyone I call is booked this time of year." Well, my friends, I feel good about referring you to this new ranch. For more information, visit www.brokenstoneranch.com or call 214 395 9014.
Listen to Outdoors with Luke Clayton and Friends weekends on radio stations from Nebraska to Texas or anytime online at www.catfishradio.org