Farm and Ranch
AgriLife Research wheat breeder talks value, marketing during Latin American tour
Feb 4, 2019
Texas A&M wheat quality in demand
Amarillo, Texas -- For Dr. Jackie Rudd, Texas A&M AgriLife Research wheat breeder in Amarillo, his job isn't just about experimenting with and growing new varieties of wheat.
Equally important, Rudd said, is finding markets that recognize the value of breeding research and meeting with future tend-users to determine what qualities they need in the wheat.
"Not only do our varieties need to remain productive, they have to be marketable at a premium price," he said.
He said the demand for whole-wheat products is growing domestically and globally with the increasing consumer consciousness of the effect of diet on their health.
"We need a strong protein to make bread, and even stronger protein quality for whole wheat products," Rudd said. "So, our quality must carry through from the kernel to the flour to the dough."
Working with U.S. Wheat Associates, the export market development organization for the U.S. wheat industry, Rudd recently traveled with the Wheat Quality Improvement Team through Latin America with stops in Mexico, Guatemala, Costa Rica and Peru.
"Our purpose on this type of trip is to meet with end-users and allow them to educate us as breeders about the specific end-use quality requirements of key overseas markets, since about half of all U.S. wheat is exported," Rudd said.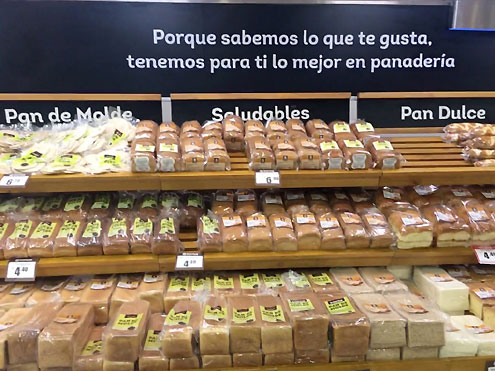 The U.S. Wheat Associates Wheat Quality Improvement Team visited the bread display at a grocery story in Lima, Peru. (Texas A&M AgriLife photo by Dr. Jackie Rudd)
During the visit, flour millers and commercial bakers talked with the team about operation efficiency and how that is affected by wheat quality. They discussed shipment consistency, wheat cleanliness and dough strength.
The quality and quantity of protein affects dough strength, Rudd said. So, for instance, cookies can utilize a lower protein wheat, where crackers need mid-levels of protein and bread needs a high-protein wheat.
"Our core message is that wheat quality is not an accident," he said. "Quality is a product of long-term investments by growers and years of scientific breeding work."
The trip, with a team of three other wheat breeders and a cereal chemist from various U.S. universities, was paid for by the Texas Wheat Producers Board and other state producer groups. These organizations provide support and funding for wheat research, education and market development.
"Latin America is a primary and growing market for U.S. wheat," said Rodney Mosier, Texas Wheat Producers executive vice president, Amarillo. "Trips like this are designed to help us meet the needs of our customers to build demand. In the end, the ultimate goal is to boost prices for Texas farmers.
"We were really excited to send Dr. Rudd to meet directly with some of our top customers," Mosier said. "We have some of the best quality wheat produced right here in Texas and continuing to build on our successful breeding programs will help us maintain and grow this critical market."
Because most Texas wheat is hard winter wheat and bread is the primary market, Rudd said his mission was to interact with end-users interested in higher-protein wheat. Similarly, Washington's breeder of soft wheat was in more discussions with cookie manufacturers.
"It is important for us as breeders to know what our wheat customers want," Rudd said. "It helps reinforce our quality targets. While many potential buyers generally like our wheat, we need to be listening to them about what is working and what needs more attention."
The trip also included sampling different kinds of bread, pastry and cookie products, he said, because, "taste is the ultimate quality check for most consumers."