Obituaries
Dorotha Jean Kent Savage
Jan 30, 2019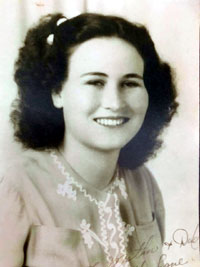 Leonard, Texas -- Funeral services for Dorotha Jean Kent Savage, 92, of Plano, (formerly of Leonard), is scheduled for Saturday, February 2, 2019 at 10:00 a.m. at Turrentine-Jackson-Morrow Funeral Chapel in Leonard. Pastor A.J. Durr and Christopher Savage will officiate. Burial will be at Burns Cemetery in Trenton. Family visitation is scheduled for Friday, February 1, 2019 from 6:00 p.m. until 8:00 p.m. at Turrentine-Jackson-Morrow Funeral Chapel in Leonard.

Dorotha was born April 16, 1926 near Trenton. Her parents were Ollie Floyd "John" and Amber Lee Arnwine Kent. She married Howard Ray "Jack" Savage October 3, 1945 in Nocona. She was a member of the First Baptist Church of Leonard, Order of the Eastern Star, served on the Leonard City Council, and was retired from Johnson & Johnson. She passed away Monday, January 28, 2019 at Carrara Skilled Nursing of Plano.

Dorotha is survived by her son: Chester Savage of Leonard; her daughter: Jacqui Savage of Leonard; her son and daughter-in-law: Chris and Tiffany Savage of Plano; her grandchildren: Corey & Cindy Savage of Lubbock, Dionna Savage and Michele Trapp of Coppell, Amberleigh & Todd Dubuisson of Euless; Kylan & Jenn Savage of Welches, OR, Madison & A.J. Durr of Allen; Parker Savage, Eden Savage and Esther Savage, all of Plano; her great-grandchildren: Miranda & Alex Zarate of Santa Rosa, CA, Jaxon Savage and Braxton Savage, both of Lubbock, Nicolas Fulmer, Philippe Fulmer and Leilani Fulmer of Coppell.

In addition to her parents and her husband, she was preceded in death by her brothers: Joe, Bill and E.B. Kent, a daughter: Dawatha Jean Savage and a grandson: Justin Charles Dugan.

Turrentine-Jackson-Morrow Funeral Home of Leonard is in charge of arrangements. An online registry may be signed at

www.tjmfuneral.com

.