Local News
Skills for Small Business Lunch & Learn in Denison Feb. 6
Feb 6, 2019
Sample of Courses: HVAC training, QuickBooks, Introduction to Excel, Cyber Security, Customer Service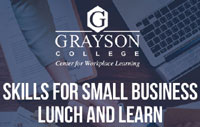 Denison, Texas -- Grayson College Center for Workplace Learning will host Skills for Small Business Lunch & Learn from 11:30 a.m.-1:30 p.m. February 6 at Hilton Garden Inn Denison, located at 5015 U.S. 75.

This exceptional opportunity supports businesses with fewer than 100 employees, and emphasizes training for new workers
though it also may help upgrade the skills of incumbent workers.

The program pays up to $1,800 for each new employee being trained and $900 for existing employees per 12-month period.

For more information, please call 903-463-8765.