Farm and Ranch
Cody Maxwell named Agriculturist of the Year for 2018
Feb 9, 2019
Fannin County, Texas -- The Agriculturist of the year for 2018 grew up a Fannin County resident. He received his bachelorís degree from Texas Tech University in Animal Science and his masterís degree from Sam Houston State University in Agriculture Science. He married his wife Logan in February of 2012. In April of 2018, they had their first child Shepherd who is their pride and joy! He began working for Texas A&M Agrilife Extension in August of 2012 in Delta and Franklin counties.
In April of 2014, he transferred to Fannin County and began his work as the Agriculture and Natural Resources agent. They absolutely love working with the citizens of Fannin County and assisting them with their agriculture educational needs. In his time in Fannin County, he has provided over 85 agriculture educational seminars for the residents of Fannin County. His highlighted programs in 2018 included the Fannin County Farm and Ranch Roundup which is host to over 300 attendees, the North Texas Improvement Bull and Heifers Sales, the Fannin County Youth Path to the Plate Expo which is host to 450 4th grade students, the Fannin County Hay Show, and overseeing the Texoma Beef Cattle Alliance.
Over the last two years, through educational seminars and programs he has hosted, whether it be visiting with a farmer or rancher at the office or in the field, or in a group educational seminar setting, he has assisted over 8,200 people with their agriculture endeavors, and his family are members of the Savoy Church of Christ, Texas and Southwestern Cattle Raisers Association, and he serves on the board for Fannin County Farm Bureau.
In his spare time, he enjoys spending time with his wife Logan and son Shepherd making memories together on their cattle ranch, attending church, and watching Texas Tech football, basketball, and baseball games! Please welcome Cody Maxwell as Agriculturist of the Year for 2018.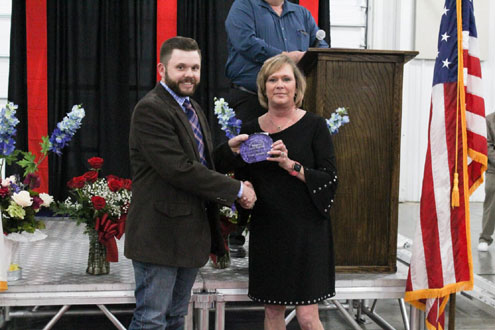 (L-R) Cody Maxwell, Agriculturist of the year for 2018, and Bonham Chamber Board Chair, Deana Staton