Obituaries
Jason Baugh
Feb 9, 2019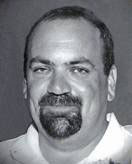 Honey Grove, Texas -- A memorial service for Jason Wyatt Baugh, 47, of Honey Grove, Texas has been scheduled for 2:30 p.m. Monday, February 11, 2019 at Cooper-Sorrells Funeral Home Chapel in Honey Grove, Texas. Mr. Ronnie Ball will officiate. The family will receive friends one hour prior to the service starting at 1:30 p.m. for a visitation. Mr. Baugh passed away Wednesday, February 6, 2019 at Stillhouse Rehabilitation and Healthcare Center.

Jason Wyatt Baugh was born in Jacksonville, Texas on September 28, 1971 to Jimmie and Pamela (Bell) Baugh. Jason had worked as a self-employed pilot car driver.

He is survived by his sister Karla Baugh of Honey Grove, TX; and aunts Anita Bell Moore of Honey Grove, TX; Linda Baugh Tschoepe of Telephone, TX; and uncle John Paul Baugh and wife Cathy of Telephone, TX; along with numerous cousins and friends. He is preceded in death by his parents, grandparents, aunts Barbara Baugh Ball, and Bessie (Mookie) Baugh Dizmond; uncles James Duncan Baugh, Thomas (Red) Baugh and Simon (Pete) Baugh.