Lifestyles
An unforgettable love story
Mar 25, 2019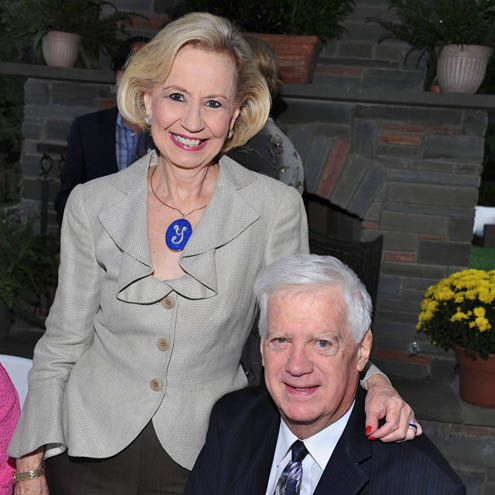 Yvonne and Mayo Crum - Aging Minds Foundation Gala Honorees



Friends of Yvonne and Mayo Crum had been trying to set them up for some time when they finally met May 7, 1967.

"I had just returned from Paris with a new dress," recalls Yvonne, who at the time was a Braniff Airlines flight attendant. "I wore it to Jane Ventura's birthday party. Mayo and I were talking by the pool. He had just said, 'Everybody says we ought to meet,' when someone pushed both of us into the pool. We went back to our apartments and changed clothes, and then went to dinner together. We've been inseparable ever since. We were engaged August 14 and married September 8, 1967. Of course, everyone said it wouldn't last."

Even as her husband of more than 50 years navigates the end stage of Parkinson's disease, Yvonne Crum presses on to raise money for Alzheimer's and dementia research.

"John Clutts, Aging Mind Foundation board member, called last year and invited me to lunch," recalls Yvonne. "I asked what he wanted, and he said, 'just to take you to lunch.' I said, 'come on, John, we both know there's no such thing as a free lunch.' But when he and Laree Hulshoff, Aging Mind Foundation's co-founder, told me about their mission, of course, I agreed to help."

Yvonne and Mayo Crum are Honorees of the 2019 Aging Mind Foundation Gala, which will be held March 23 at the Joule Hotel in Dallas. Registration for the Gala is available at agingmindfoundation.org

The Aging Mind Foundation was founded in 2013 to raise money to fund scientific research that seeks the cause and cure of Alzheimer's disease and other dementias.

Parkinson's disease is a progressive nervous system disorder. Symptoms usually start gradually, sometimes with a barely noticeable tremor. In Parkinson's disease, certain nerve cells in the brain gradually break down, often resulting in dementia.

"Several years ago Mayo began experiencing neuropathy in his legs," explained Yvonne, "and on October 16, 2016, he fell and couldn't get up. I called an ambulance and they took him to the hospital. He was transferred to a nursing facility with a Memory Care unit, and he hasn't been home since. Last May, his doctor told us Mayo probably had six to seven months to live. Mayo is day-to-day now. I go see him several times each day, but I always wonder when I leave if that's the last time I'll see him."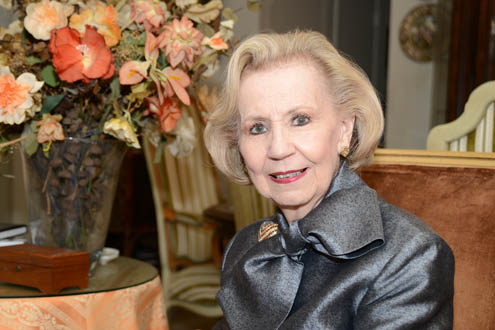 Yvonne Crum



Yvonne is a philanthropic phenomenon. Beginning in 1969 when she was introduced to Ruth Sharp Altshuler, she and Mayo became involved with the Dallas Summer Musicals. Yvonne and Mayo had only been married two years, and she was still working as a flight attendant for Braniff. But she found time to volunteer, and over the years, served as president for six consecutive two-year terms.

She flew for Braniff for 26 years, then spent another 20 years with American Airlines before retiring in 2010. She is in the "Flight Attendants Hall of Fame."

Over the past 50 years, Yvonne has championed many charitable causes, including the Kidney Foundation of Texas, Dallas Children's Theater, Mental Health Association, Nexus Recovery Center, National Women's Board, Dallas Museum of Art, Northwood University and the DIFFA Style Council, helping to raise a total of more than $8 million for various charities.

Yvonne founded the Suicide and Crisis Center's Fashion Stars for a Cause event. She has been honored with The Distinguished Woman Award from Northwood University in 2001, the Dallas Historical Society Award for Excellence in Volunteering in 2006, and in 2009 was named Woman of the Year by Les Femmes du Monde. Yvonne received an Honorary Doctorate from Northwood University in 2009.

The Aging Mind Foundation has raised nearly $2 million and has funded four Alzheimer's dementia research projects. Proceeds from the 2019 Aging Mind Foundation Gala will benefit Yale University's Cellular Neuroscience, Neurodegeneration and Repair program.

Presented by Headington Companies, The Joule and Forty-Five Ten, The Aging Mind Gala will be hosted by Greg Creed, CEO of Yum! Brands, with entertainment from country singer Jay Allen. Sherwood Wagner is serving as the Honorary Chair and Kathy Nelson as Gala Chair.