Farm and Ranch
Wet conditions, low supplies could mean good year for corn growers
Mar 12, 2019
College Station, Texas -- A full soil moisture profile and tightened supplies could mean a good year for grain growers, if they can get their crops planted in time, according to Texas A&M AgriLife Extension Service experts.
Market conditions
Dr. Mark Welch, AgriLife Extension economist, College Station, said the U.S. Department of Agriculture released a report showing national corn supplies carried over from 2018 were lower than expected. The U.S. typically carries 15-20 percent of the national crop into the next growing season.
The report estimated the U.S. corn stock was at 12 percent, Welch said.
"The carryover corn stock has been going down the last three years," he said. "At 12 percent, that's tight. If we get to 10 percent, that's tight, tight and an indication that without record yields we need more corn acres."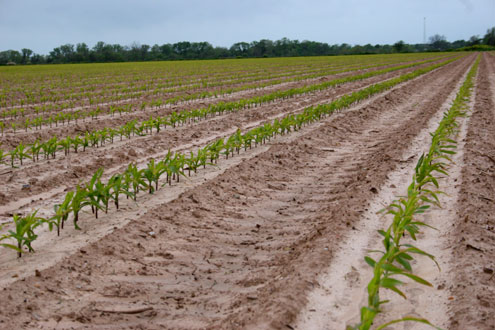 Emerging corn. Field preparations and plantings are behind in many areas due to wet conditions. (Texas A&M AgriLife Extension Service photo)
Prices have moved lower despite the report of lower supplies, Welch said. Domestic corn use estimates were lowered by USDA as well, which offsets some impact of the lower production numbers.
"Prices actually went down after the report came out," he said. "We would think in the context of supply and demand there would be some degree of support for higher prices, but that hasn't happened so far."
Welch said uncertainty due to ongoing trade talks with China, specifically soybean exports, could be dampening a positive reaction within the corn market. Soybeans and cotton remain competitive crops for growers to consider as corn lingers just below $4 per bushel.
Wet weather across much of Texas and the Corn Belt in the Midwest could further exacerbate the nation's corn supply, he said.
"The short-term problem for producers is being able to do field work and prepare for planting," he said. "We have a good moisture profile that could support above-normal yields, but they still have to get the crop in the ground."
Welch said conditions have been cold and wet throughout much of the Midwest and producers are well behind on tillage and fertilizer schedules.
Field conditions
Dr. Ronnie Schnell, AgriLife Extension state cropping systems specialist, College Station, said planting in South Texas and drier fields along the Gulf Coast is well underway. But fieldwork remains at a standstill in much of Texas' corn and sorghum country due to wet conditions.
Schnell said producers are preparing fields as conditions allow but that rain has caused delays since late fall. Unharvested crops still remain in many fields.
"Field conditions are better for Corpus Christi and south to the Rio Grande Valley, but there are a lot of fields north of Victoria over to Houston and throughout Central Texas that are too wet to access," he said. "Some preplant activities such as herbicide applications have occurred. Sprayers were leaving tracks, but producers are doing what they can where they can."
Producers need warmer, sunny conditions to dry fields enough to prepare seedbeds and plant, Schnell said. Soil temperatures 50 degrees or higher and several days of warm weather are needed for acceptable germination of corn and sorghum.
"You want to make sure soil temperature is adequate, and there aren't any cold fronts forecasted when planting early," he said. "Planting early is better than late, within reason. For early plantings you run the risk of frost or lethal freeze events.
"Light frost at early vegetative stages usually will not cause much, if any, yield loss," he said. "Multiple frost events or lethal freeze events can cause significant yield loss. But if you plant too late, you run the risk of plants pollinating and filling grain when it's hot and moisture is often limited. That's not good either."