School News
Bonham ISD Board of Trustees election to have three contested races
Mar 13, 2019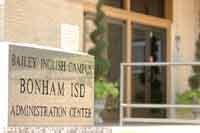 Bonham, Texas -- An election for Bonham ISD Board of Trustees Places 3, 4 and 5 with be held jointly with the City of Bonham. Election day is May 4.

Early voting is from April 22 to April 30.

The two days with extended voting hours during early voting will be April 25 and April 30.

Polls will be located at Bonham City Hall.

In Place 3, incumbent Sean Floyd will be challenged by Jason Walker.

In Place 4, incumbent Jason Fox will be challenged by Clint Hemby.

In Place 5, incumbent LaTonia Arris will be challenged by Clint Cheek.

Bonham ISD Trustees serve three-year terms.