Lifestyles
Eric Taylor & Susan Lindfors Taylor to appear at Harmony House Concerts
Mar 23, 2019
Fannin County, Texas -- Eric and Susan Taylor are both headed for Harmony House Concerts on Saturday night, March 23, '19, 7:30-9:30 p.m. We hope you'll be here to enjoy them in the ambience of our reclaimed vintage home. They will both be playing some original tunes of their own, plus accompanying one another at times. There will be two 45-minute sets with a 30-minute intermission for chatting with friends and the artists, grazing at the snack tables, and purchasing CDs.
Make reservations for this outstanding duo by calling 903-583-2661, leaving your contact information (e-mail address and/or phone number) and the number of seats desired. The suggested donation is $18 per person with all proceeds going to the artists. To prepay, please send your check to Faye Wedell; P.O. Box 812; Bonham, TX 75418 to be received by Wednesday, March 20th. You can also pay at the door, cash or checks made payable to Eric Taylor. If you make a reservation, please be respectful of the performing artists and the hosts by showing up or cancelling in advance. No-shows are a NO-NO! Seating is limited to 50 persons, and a waiting list will be kept.
Harmony House Concerts is located about 10 miles North of Bonham on Wildscape Acres, www.WildscapeAcres.com. Here you will find a musical community of not only outstanding acoustic singer-songwriters (who have chosen to be independent rather than signed to a label other than their own), but also of genuine and welcoming attendees. Hosts Faye and Scott will provide bottomless cups of coffee, tea, and various herbal tea/fruit punches, plus cheese and crackers. Guests are requested to bring finger food snacks to share on the tables provided throughout "this 'ole house" that found a home on the prairie surrounded by woodlands. When you make reservations, indicate whether you need directions. We can send those to you in an attachment to an e-mail or give you a physical address then (not all phone GPS systems get service here).
About Eric Taylor
Eric Taylor is a master storyteller and has been one of the finest southern songwriters for the last four decades. Influencing such well-known artists as Nanci Griffith, Lyle Lovett (both of whom have covered several of his songs) and Steve Earle, Taylor tours extensively throughout North America and Europe.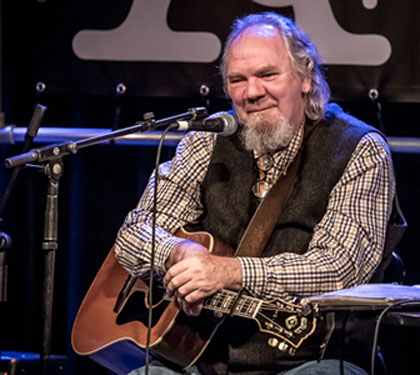 Eric Taylor has appeared on Austin City Limits, Late Night with David Letterman, NPR's Morning Edition and Mountain Stage and BBC Radio. He's a mesmerizing performer whose shows will leave you wanting more.
"Taylor may sing of the past, of bar rooms and hay fields and even Johnny Cash, but his characters want the same things we do. They want love and redemption. They want some fun and happiness. They want respect and sometimes even a little vengeance. Taylor's people are just like us, it's just that their tales are exquisitely told." ~Al Kaufman, Atlanta Music Guide
"I'm always the opening act when I'm around Eric. I love his voice, and he has a great narrative quality and sense of detail. He sort of takes you out of your own reality and into the reality of his songs. It's good writing no matter how you cut it." ~Lyle Lovett
"Eric's performance was revelatory. Truly life-altering. Afterwords I felt as if I was walking in two (or more?) distinct worlds, this corporal one and the one(s) where his characters and their stories led us. Many other people in attendance that night shared similar feelings afterwords. That is a true art, to have that kind of deep impact on people." ~Jeffrey Jones, The Park Center Theater
"If you have yet to experience an Eric Taylor concert, if you love the sort of songwriting that changes your perspective while enthralling to the point of making you forget to breathe, if you love storytelling that is never predictable or derivative and akin to the best fiction-writing, if you love guitar work that is never flashy but always brilliant, if you love discovering an artist that is singularly of his own mold, then Eric Taylor is your man." ~Denise Williams, Hillbilly Haiku House Concerts
"[Eric Taylor] is one of the finest songwriters of our time whose songs will be remembered into the next century. His songs are examples of the pure life-giving and healing energy music can bring. They are timeless. Eric Taylor is a treasure of song and story with a twist of Texas." ~No Depression
Eric Taylor was nominated for an Emmy for his Musical Compositions in the Storyworks TV documentary, Road Kid to Writer: The Tracks of Jim Tully. Jan. 2017: Houston Chronicle names Eric Taylor's seminal "Shameless Love" one of the top 50 Great Texas Singer-Songwriter Records. His songwriting has won many awards, but probably his greatest achievement of all has been marrying his musician wife, Susan Lindfors Taylor.
About Susan Lindfors Taylor
An active performing songwriter in the '90s, Susan Lindfors Taylor played regularly around Texas in listening rooms such as Anderson Fair, Cactus Cafe, Chicago House, Uncle Calvin's. Her tours farther afield included songwriter rounds at the esteemed Bluebird Cafe (Nashville) and concerts at several New England venues including Caffe Lena (Saratoga Springs), Club Passim (Cambridge), the Clark Art Institute (Williamstown, MA) and Godfrey Daniels (Bethlehem, PA). She has performed on Austin City Limits twice (John Gorka and Eric Taylor) and has also supported and shared stages with Don McLean, John Gorka, Bill Morrissey, Livingston Taylor, Cliff Eberhardt and others. She was a finalist twice in the Telluride Troubadour Contest and once at Rocky Mountain Folks Festival. As she became an established artist on the '90s Austin music scene, she and Jimmy LaFave were regular hosts of a popular Monday open mic night in Austin, supporting fellow emerging songwriters such as Diana Jones, Slaid Cleaves and Guy Forsyth.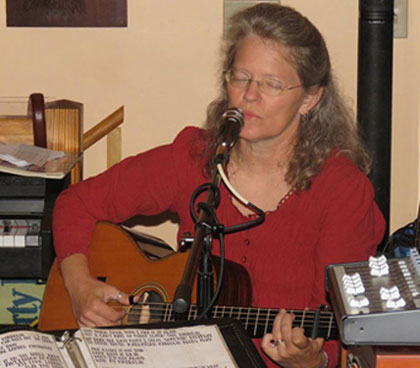 "Susan's voice, that voice that embraces such confident vulnerability will always touch your soul. And her songwriting, just listen to her song "A Matter of Degrees" and you'll know." ~Cliff Eberhardt
"The multi-talented Susan is a force of nature herveryownself. She is an accomplished songwriter and singer and a person of great depth and kindness. She's earned her stripes and has stories she could tell, if she will, about a life spent in music and with musicians whose names you know. Her voice is in turn vibrant and breathy to fit the emotion of her song. I'd have her back in my house concert venue any day...it is a privilege to call her 'friend'." ~Julia Sulsar, House Concerts in the Arbors (Elgin, TX)
The Taylors live in Borden, TX (a small community not unlike Ravenna, TX, where Wildscape Acres/Harmony House is located) outside of Weimar. Their website is www.bluerubymusic.com where you will find numerous YouTube videos of Eric playing his songs at Kerrville Folk Festival; in the Red Shack with his buddies, Lyle Lovett; Nanci Griffith & others; and in venues of European tours. The twosome has begun traveling all over the US in a new van that accommodates their pets (a pit bull puppy and a 39-year-old parrot) that, we're told, do not perform with them.