Local News
Fannin County Commissioners Court: Next phase of courthouse restoration set to start
Feb 28, 2019
Fannin County, Texas – The regular meeting of Fannin County Commissioners Court began with the call to order and established a quorum with all members present.
Agenda item two was the pledges of allegiance, which were delivered by Robert Eades of Savoy United Pentecostal Church.
Agenda item three was the invocation presented by Lisa Loiselle.
Agenda item number four was public forum. Malinda Allison thanked Commissioner Self for bringing the cornerstone from the old jail to the museum; it is now on display. Next in public forum, Sharon Mass addressed court regarding agenda item nine. She asked Commissioner Whitlock to help with their road. He could not comment, as it is not allowed in public forum.
Item number five was for introductions, there were none.
Agenda item number six approved minutes for 02/12/2019, 01/29/19, 01/15/2019 which were regular meetings, and 06/22/2018 and 06/21/2018 which were special meetings.
Agenda item seven approved the EMS Monthly Profit/Loss Report. Chief Ridling pointed out that their loss fluctuates on a monthly basis. Sometimes due to Medicare payments, as they do not always come in on a timely basis.
Item number eight regarded the Veteran Service Officer's Annual Activity Report for 2018. Paul Chandler addressed court and gave a presentation of his activities and an overview of the past year. Judge Moore pointed out two impressive facts. One is that almost 13% of Fannin County residents are veterans, and second was that Mr. Chandlers office put 17.439 million dollars in the pockets of Fannin County Veterans. For more information, click on the Veterans Service Officer's web page.
Agenda item number nine was regarding road maintenance on County Road 2515 regarding ditch cleanup and tree trimming. Commissioner Whitlock answered the question put to him in public forum, as this was on the agenda. He said that with all the wet weather they were far behind, and would get to it as soon as they could.
Agenda item ten and eleven waved the hydraulically sizing of ditch, water flow, depth and velocity design and the Impact Study Bar D Ranch Estates.
Item twelve on the agenda, for Bar D Ranch Estates, to change the right of way requirements from 60' to 50'was voted down 2-3.
Agenda item thirteen passed on, for Bar D Ranch Estates, of the road requirements from 21' wide pavement to 18' wide pavement and base from 25' wide to 22' wide. As this was a moot point after item twelve was voted down.
Item fourteen on the agenda approved, for Hidden Meadow Trails, a six-month extension for road construction in reference to the preliminary plat that was approved on 08/21/2018. This was due to the wet weather.
Agenda item fifteen authorized the sale of fireworks in Fannin County for San Jacinto Day during the period of April 16 thru April 21 at midnight.
Item sixteen approved the lease agreement presented by Vested Networks to replace the existing phone service and equipment. The agreement is for 5 years at a cost of $3423.75 per month. This will save the county approximately a thousand dollars a month. This item was presented to court by the new purchasing agent Michelle Case.
Item seventeen approved the issuance for advertisement the bid instructions for the exterior masonry cleaning of the Fannin County Courthouse. Commissioner Lackey informed court that the poultice method will be used to remove the mastic.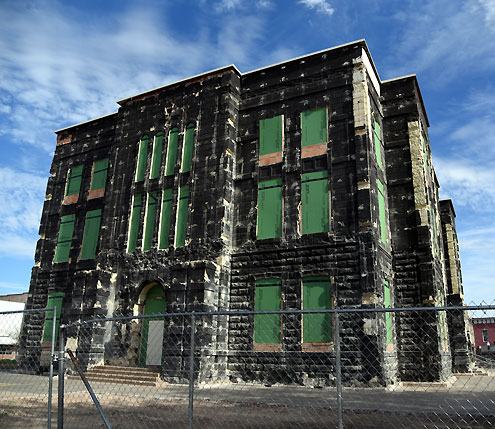 Agenda item eighteen gave the approval to proceed with the development of the abatement and disposal procedures as put forth by IHST (Industrial Hygiene and Safety Technology) regarding the courthouse restoration. This is to remove a small amount of lead paint under the mastic and a small amount inside the courthouse.
Agenda item nineteen appointed board members to the Bois D'Arc Lake Planning and Zoning Committee. Members appointed are Kevin Darwin, Gilbert Welch, and Fannin County Judge Randy Moore.
Item twenty approved an agreement between the Ladonia Volunteer Fire Department and Fannin County.
Agenda item twenty-one approved payment of the bills. Bills this week totaled $160,892.70.
Item twenty-two on the agenda was comments by the County Commissioners and County Judge.
· Commissioner Whitlock asked everyone to watch out for people stealing road signs, and report them if you see them.
· Commissioner Self had no comments.
· Commissioner Magness reiterated the appeal to watch for people stealing signs.
· Commissioner Lackey
o Reminded everyone of the April 20 hazardous waste disposal at his barn.
o He also said the 2/26 was the date of the signing of the Texas Declaration of Independence.
· County Judge Moore
o There has been a Federal Disaster Declaration for Texas for the Storms of September 10 to November 2 which Fannin County is one of the counties. This could bring in federal funds for some of the damage caused by those storms.
o The vote to return Lake Fannin to Fannin County should occur soon. Then, the President has two weeks to sign the bill. So, Lake Fannin could be returned to Fannin County by March 15.
o Judge Moore was in a meeting with Upper Trinity Regional Water District dealing with Lake Ralph Hall. They plan on including greenbelts in with their planning and zoning. They hope to start construction by 2020.
o He was also at a meeting with BEDCO about the vision of Bonham's Future.
Agenda item twenty-three adjourned the meeting.
If you have any questions or comments for your County Commissioners or County Judge their contact information can be found at the web addresses below.
http://www.co.fannin.tx.us/page/fannin.County.Judge