Obituaries
Pauline Marie Maples Warren
Feb 28, 2019
Van Alstyne, Texas -- Pauline Marie Maples Warren, 96, passed away February 25, 2019 at the Avante Rehabilitation Center in Irving, TX. Pauline was born September 10, 1922 to Marion Frank Maples and Kathleen Tynes Maples in Nacogdoches, TX; she married the love of her life Grady R. Warren, in Van Alstyne, TX on September 26, 1942 by Rev. Johnson and was married for 50 years until Gradyís passing in 1992.
Pauline worked at Higginbotham & Sons Clothing & Design for about six years. Her favorite hobby was sewing for the family. After her husband passed away Pauline, continued to live alone for several years. She finally got her driverís license and drove herself to church and to do some light shopping; she also liked to drive short distances around town.
The family kept trying to get Pauline to move out of the old homestead that she and Grady, lived in (NO WAY THAT WAS GOING TO HAPPEN) another house, was not good enough for her, she was just fine in the old house. For 30 plus years, Pauline felt like she could live another 30 years or so just fine BUT everything changed when she fell and broke her arm.
She started living in an assisted living center and she loved every minute of it. She cruised the hallways and sidewalks on a daily basis. Pauline earned her nickname at the assisted living center (SPEEDY) real quick. She was loved by everyone at the facility.
Pauline, was of the Baptist Faith and was a wonderful Mother, Grandmother and will be deeply missed by all who knew her.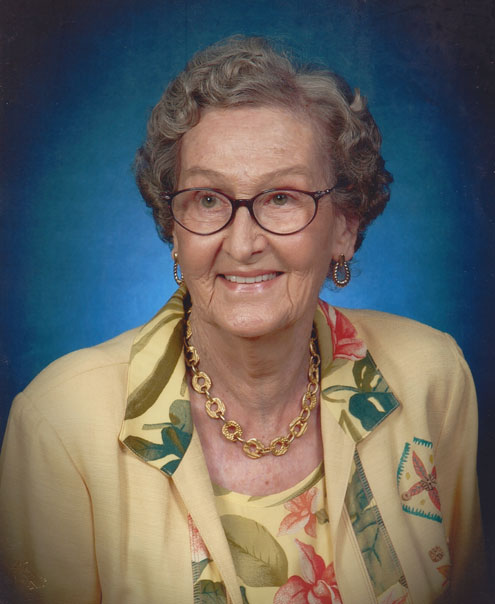 Those left to cherish her memories are sister-in-law, Amy Warren; and two sons, Joe Warren and Michael Warren. She also has four wonderful grandchildren. Pauline, is preceded in by her husband, parents, three brothers and four sisters.
Funeral services will be held at 1:30 p.m. Saturday, March 2, 2019 at Scoggins Funeral Home Chapel, with Pastor Jeremy Moore officiating. Following the funeral service, Pauline will be laid to rest next to her beloved husband at the Coffman Cemetery in Anna, TX.
Joe Warren, Michael Warren, Wes Warren and Kelton Smith will serve as pallbearers.
The family will receive friends one hour prior of service.
Funeral services are under the direction of Scoggins Funeral Home & Crematory, 637 W. Van Alstyne, Pkwy. Van Alstyne, TX. 75495. 903-482-5225. You may sign the online register book at www.scogginsfuneralhome.com.