Local News
Visit the Eisenhower Birthplace State Historic Site for spring break activities
Mar 11, 2019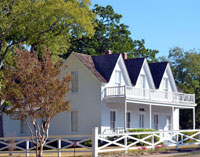 Denison, Texas -- The Eisenhower Birthplace State Historic Site, located in Denison, Texas, invites families and friends to enjoy several fun activities happening on site during spring break. Inside the Visitor's Center is a new, child-friendly, hands-on "railroad relic" display, as well as a new temporary exhibit on the "Good Roads Movement." Our young visitors can also participate in three outdoor scavenger hunts! From 10:00 a.m. to 12:00 p.m. on March 12, 13, and 14, children ages six to twelve can craft a kite and plant a flower seed to take home.

The crafts, temporary exhibit, railroad display, and scavenger hunts are free. Tours of the Eisenhower Birthplace home, led by our incredibly knowledgeable guides, are available hourly from 9:00 a.m. to 4:00 p.m. Tuesday through Saturday, and Sundays 1:00 p.m. to 5:00 p.m., with paid admission.

For more information, please contact Robin Cole-Jett at the Eisenhower Birthplace State Historic Site: 903-465-8908 or robin.cole-jett@thc.texas.gov.