Lifestyles
Martha Washington's Memories at March 7 Preston Trail NSDAR
Mar 6, 2019
Pottsboro, Texas - Come hear First Lady Martha Washington's reminiscences at the Preston Trail NSDAR Meeting at 6:00 p.m. on March 7, 2019. Representing Martha Washington in period dress will be Preston Trail chapter member Margaret Alverson.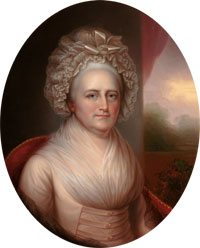 'Martha Washington' will speak about her parents and family, her first marriage and children, and why she married George Washington. She will describe her love of beautiful clothes, her own wedding dress, and how she is remembered in my drab grey dress. She speaks about the war and the part she played in it. She touches on life after George became President and his death.

The next meeting for the chapter will be Thursday, April 4, 2019 with a program entitled a Colonial Style Show by Carolyn Schiewe, Director of District II TXDAR. Be sure to include this on your calendar.

For the meeting location please contact the chapter at prestontrailnsdar@gmail.com

February 7th's meeting program was entitled "Our Rights and the Second Amendment to the US Constitution" presented by Aaron Bucy, who is an active investigator and has authored a law enforcement book; and Dr. Todd Cutler, a local physician and certified NRA instructor.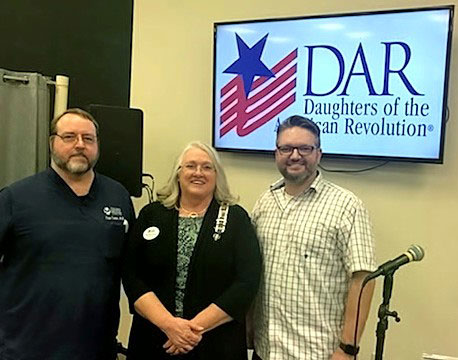 (L-R) Dr. Todd Cutler, Vicki McComack, Aaron Bucy
During this meeting, new members Terisa Wilson and Nelda Woods with chapter officers Regent Vicki McComack, Parliamentarian Jonnie Templeton, and Historian Carolyn Dexheimer officiating.
**image3:center***
The meeting program entitled "The Saga of Preston Bend and Glen Eden" on January 4 was presented by local author and chapter Vice Regent Natalie Clountz Bauman. A book by the speaker bearing the same title as the program was presented to the Pottsboro Public Library on behalf of Preston Trail NSDAR by chapter Librarian Beth Bowling. The Preston Trail Chapter of the NSDAR next meets Thursday, April 4, and thereafter through May on the first Thursday of the month at 5:00 p.m. for snacks and fellowship and at 6:00 p.m. for chapter meetings and programs.

Would you like to be part of our meetings and be able to listen to the interesting speakers we have each month? You are welcome to come and see what the DAR is all about even if you are not a member. Would you like to be involved in the good works that DAR participates in? Anyone interested in receiving help to prove their ancestry for qualification to become a Daughter of the American Revolution are welcome to contact our chapter at www.facebook.com/PrestonTrailNSDARPottsboroTX75076 on Facebook or www.DAR.org.
The National Society Daughters of the American Revolution was founded in 1890 to promote historic preservation, education and patriotism. Its members are descended from the patriots who won American independence during the Revolutionary War. With more than 177,000 members in approximately 3,000 chapters worldwide, DAR is one of the world's largest and most active service organizations. DAR members are committed to volunteer service having served more than 12.5 million hours in communities throughout the world during the past three years. To learn more about the work of today's DAR, visit www.DAR.org or connect with DAR on social media at facebook.com/TodaysDAR, twitter.com/TodaysDAR and youtube.com/TodaysDAR.