Lifestyles
A big Barkus thank you...
Mar 5, 2019
McKinney, Texas -- Thank you to everyone that participated in the 17th Annual Krewe of Barkus Parade – Canines Keeping it Real: A Barkus Salute to Reality TV! The cold weather couldn't keep us from having a howling good time as we moved the vendors inside the Chestnut Commons Parking Garage and ended the newly routed parade there to announce the winners. Mayor George Fuller & Maylee were there to help us celebrate, as was our favorite Dixieland Jazz Band – Razzmatazz.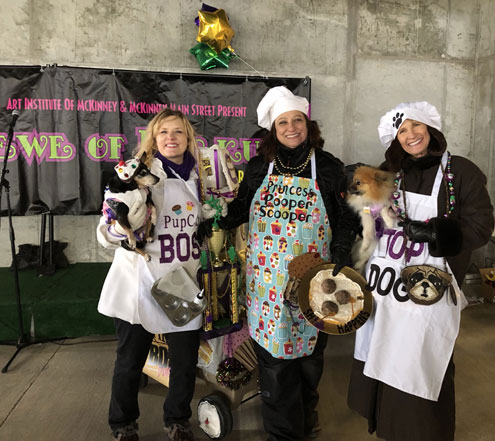 Best of Show – The Lady Godiva Memorial Award - went to Cake Boss – Daisy & Penny with Alisa Meli, Tamra Alami, & Chantell Pickles.
Here's a Big Barkus thank you to Amanda Kelly, prize & parade organizer, who I couldn't not do this without, Stephanie Farrar, who solicits and gathers prizes from downtown merchants, and Susan Mouser, who organizes and runs the registration &check in. Patty Brown, my sis-in-love, flew out from Phoenix to help all week! Thanks to Laureen Lehman & Norm, who stuffed and handled the swag bags, and also kept lines moving along and things running smoothly with Melissa Rhine. Thank you to David Pine, our website guru. Thank you also to Jennifer Dollard, Tarryn James, Tori Gaskey, Josh Stuart, and our Main Street volunteers for filling in wherever we needed them. Our judges had a monumental task before them, as always! Thank you to Jessica Hogan, Carla Sayle, Wendolin Mercado, and David Palmer. I don't know how you do it. Our new City Events coordinator, Andrew Jones, was an absolute pleasure to work with. We've got a great team!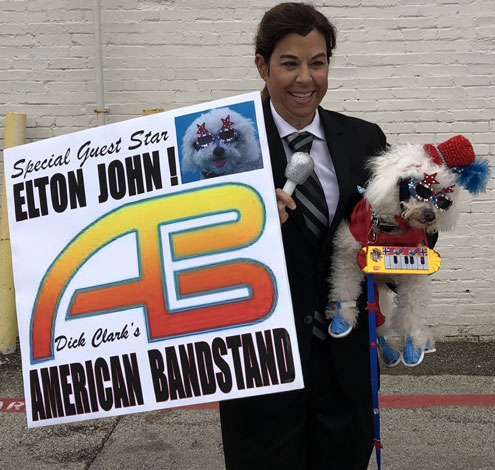 Best Dog/Owner Combo - 1st American Bandstand/Special Guest Elton John – Jazz with Dari Partain
Our photographer, Mark Nardecchia at Shagly Photography, has done such a good job for us for years! He will let us know when pics are ready and available for purchase. His website is www.shagly.com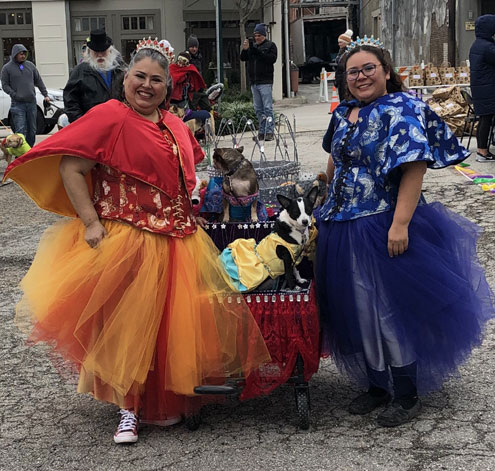 And the winners were….
· Best of Show – The Lady Godiva Memorial Award
o Cake Boss – Daisy & Penny with Alisa Meli, Tamra Alami, & Chantell Pickles
· Best Float
o 1st Toddler Paws & Tiaras – Nina & Tina with Elena & Tasha Martinez
o 2nd Swamp People – Lizzy with Elena Valencia & family
o 3rd My Big Fat McKinney Gypsy Hound Dog Wedding – Mollie, Minnie, & Rosie with Lynda Kingsley & family
· Best Group Effort
o 1st Keeping Up With the Kardogshians – Azure with Julie Miller and family
o 2nd Real Housewives of Atlanta – Rouen, Roger, & Mason with Debbie & Tim Baker and Lisa Hamilton
o 3rd Top Chef – Rory & Sonny with Jeneva O'Connor & Melissa Boesch
· Best Dog/Owner Combo
o 1st American Bandstand/Special Guest Elton John – Jazz with Dari Partain
o 2nd Dog The Bounty Hunter – Thor, Dog of Thunder with Lisa Herrick and Tristyn "T-Boo" Mevawala
o 3rd Who Wants to be a Super Hero? – Pancake with Shado Wiley
· Best Use of Theme
o 1st The Underwater World of Jacques Cousteau – Harper Lee as Barques Cousteau with Aimee Brown
o 2nd Celebrity Apprentice Season 7 – Brutus as Donald Trump with Tamra & Chuck Collins as Leeza Gibbons & Geraldo Rivera
o 3rd America's Got Talent – Ellie Mae as Mel B asset hound with Makenna Boettcher & Zane as Heidi Klum and Simon Growl
· Judges' Award
o 1st Live PD – Jynx with Keri Clark as police officer and prisoner
o 2nd Real Housewives of Beverly Hills – Gabby & Bandit as Lisa Vanderpup & Giggy with Michele Paulda
o 3rd Say YES To The Dress – Lilly Belle with Jenny Burr
· Most Memorable/Creative
o 1st Shark Tank – Beltre & Rita as a tank & a shark with Jamie Perrenoud & family
o 2nd The Walking Dead – Rocky Raccoon with the Andrew Scott family
o 3rd Top Chef/Master Chef/Worst Cooks in America – Gershwin with Mary Knight
· Honorable Mention
o 1st The Bachelor – Blu with Hayden Watson
o 2nd Dog of Anarchy – Carbon with Rod & Carol Threadgill
o 3rd The Bachelorette – Ruger, Spook, & Gracie with Kate Spencer
Contestants really outdid themselves this year and everyone was such a good sport to brave the cold! Remember, our parade is always the Sunday before Mardi Gras. The 18th Annual Krewe of Barkus Parade will be held Sunday, February 23, 2020.
The theme for 2020 is a tribute to icons we all love like Elvis, Beyonce, The Back Street Boys, Cher, Buddy Holly, Bruno Mars, Taylor Swift, The Beatles, & Madonna ….A Barkus Salute to Popular Music: Puppies Go Pop Star.
Start thinking now! I know that you are!--