Local News
Ribbon cutting officially opens FM 898 on US 82 in Fannin County
Mar 5, 2019
Paris, Texas -- Texas Department of Transportation officials, elected officials, TxDOT Paris engineers and contractor representatives yesterday officially opened the FM 898 overpass across US 82 near Ector, Texas, in Fannin County.
This 420-foot-long by 60-foot-wide $7.3 million overpass provides safe, convenient and accessible passage across US 82 for both north- and south-bound traffic in Fannin County and was officially completed in early January following an August 2016 start date. The overpass has been carrying traffic since March 2018.
Former State Representative and Acting Texas 59th District Court Judge Larry Phillips cut the ribbon, in company with Fannin County Judge Randy Moore (left, center), TxDOT Paris District engineers and representative of project contractor Highway 19 Construction LLC.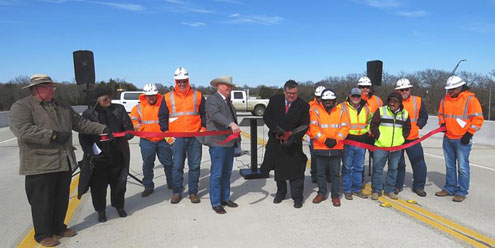 For more information, contact Tim.McAlavy@txdot.gov or (903) 737-9213.