Lifestyles
Site Manager of Sam Bell Maxey House State Historic Site to address Lamar County Genealogical Society March 12
Mar 12, 2019
Paris, Texas -- The Lamar County Genealogical Society March meeting will be at 7:00 p.m. on Tuesday, March 12. Our speaker will be Kaitlin Ammon. This will start a series of speakers from the historic sites in our area.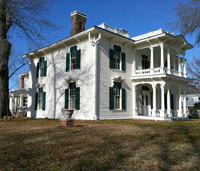 Kaitlin Ammon is the Site Manager of the Sam Bell Maxey House State Historic Site, one of twenty-two state historic sites owned and operated by the Texas Historical Commission.

Originally from Reading, Pennsylvania, Kaitlin began working at the Sam Bell Maxey House in 2010 as the site's Curator. She became the Site Manager in 2012.

Kaitlin holds a Bachelor of Arts in Social Studies Education and Public History from Mercyhurst College (Erie, Pennsylvania) and a Master of Arts in Museum Studies – Museum Education from
the University of the Arts (Philadelphia, Pennsylvania).

You do not have to be a member to attend meetings of the Society, so please come and bring a friend.

The Lamar County Genealogical Society and Library is located at the south entrance to the historic Santa Fe Depot, 1135 Bonham Street, Paris, Texas.