Sports
Sign up for Fourth Annual Do It For Nick (DI4N) 5K and Color Fun Run
May 8, 2019
Fannin County, Texas -- It is time to sign up for the Fourth Annual Do It For Nick (DI4N) 5K and Color Fun Run.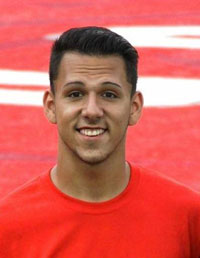 Nick Capehart loved to cheer and had dreams of cheering in college. After his life was tragically cut short by a car accident, family and friends organized this race to remember him and raise money for cheer scholarships. This scholarship fund was established to keep his legacy living and his love for cheer and tumbling alive in others who love the sport as much as he did.

The DI4N (Do It for Nick) 5K and Color Fun Run will be Saturday, May 11, 2019 at Bonham High School. Awards will be given to the top overall finishers in male & female divisions, as well as top male and female finishers in each age group. Each participant who registers by April 11 will receive a #DI4N (Do It For Nick) race shirt and goodie bag.

Registration is open now at www.raceroster.com. Entry fee is $25 for the 5K and $15 for the Color Fun Run if registered by May 2. For those who want to contribute but cannot make it to the event, there is an option to sign up for the "Virtual Run." Registering with this option costs $30 and includes a t-shirt, delivered by mail.

There will also be an amazing Silent Auction on race day, as well as lots of red, which was Nick's favorite color. Runners and spectators alike are encouraged to wear something red on race day. All proceeds will benefit The Nicholas Capehart Memorial Cheer Scholarship Fund.

Scholarship application deadline is May 3. The application and more information can be found at www.di4n.com.

Sponsorship opportunities are still available. For more information, contact Jennifer Kirkpatrick at 903-227-2401/ jenkirk72@gmail.com or Sherry Capehart at 903-814-8299/ scapehart71@gmail.com.