Lifestyles
Martha Jefferson Randolph NSDAR hold memorial service, dedicates tree
Mar 8, 2019
Sherman, Texas -- Martha Jefferson Randolph NSDAR held a tree dedication and memorial service Saturday in Sherman.
The weather caused a change of venue to the First UMC Church fellowship hall where families and friends of the honorees joined MJR members and officials of the Texas Society DAR for this recognition event.
Pictured are Ted Wilson, John Greer, Mrs. Susan Tillman, State Regent Texas Society Daughters of the American Revolution, Don Babbs, Cindie Vaughan, memorial committee chair, and T. L. Holden.
Members of the Edmond Terrill Sons of the Revolution dressed in Revolutionary War costumes presented the colors for the Martha Jefferson Randolph National Society Daughters of the American Revolution memorial service and tree dedication Saturday.
Kelly McGill of the Sherman Police Regional Pipe Band led the procession.
The service recognized six MJR NSDAR members who died in 2018: Elizabeth "Betsey" Badgett, Karen Black, Bettye Jo Clayton, Jessie Ellis, Harriet "Hoppy" Joiner and Barbara Riza.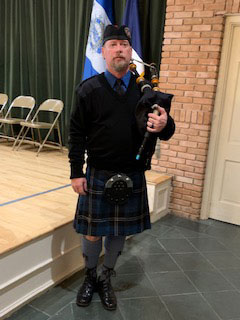 Sherman Police Regional Piper Kelly McGill is pictured in uniform.