Front Page
Fannin County Commissioners Court discusses Heritage Day Festival in Bonham, considers Special Use Permit for asphalt plant
Mar 14, 2019
Fannin County, Texas -- At a regular meeting held Tuesday, March 12, 2019, Fannin County Commissioners Court discussed access around the courthouse during Heritage Day Festival May 4 and approved the application process to issue a Special Use Permit for land usage at the corner of Pecan and Bicentennial in Bonham for Austin Bridge and Road.
The meeting was called to order and a quorum was established, with Fannin County Judge Randy Moore and commissioners A.J. Self, Jerry Magness and Dean Lackey present. Commissioner Gary Whitlock was absent.
The invocation was given by Rev. Terry Cunningham.
In public forum, Larry Standlee of Fannin County Historical Commission gave an update on the exhumations being conducted at two small cemeteries, Wilks Cemetery and the Bonham family cemetery, that will eventually be inundated by Bois d'Arc Lake. Surface scraping revealed that both cemeteries had more burials than previously thought and DNA tests will be conducted to determine if the remains belong to family members of others interred at the cemeteries.
*****
Commissioners approved minutes from a special meetings October 12, 2018, and March 6, 2019, as well as minutes for regular meetings July 27, 2018, August 28, 2108 and November 13, 2018.
*****
Spring is almost here and that means the biggest annual festival in historic downtown Bonham can't be far behind.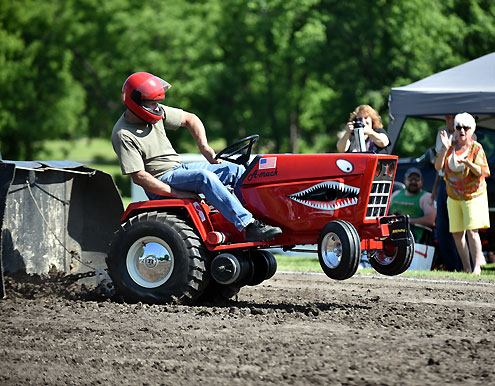 Lone Star Garden Tractor Pulling Association competes at a previous Heritage Day Festival.
Heritage Day Festival is slated for May 4, 2019 and Emily Porter, President of Bonham Economic Development Corporation, addressed Fannin County Commissioners Court regarding the use of the inside street that encircles Fannin County Courthouse and access to electrical outlets.
Commissioner Lackey said he expects the area to be useable during Heritage Day.
"If there is any way possible, we should let them use it," remarked Commissioner Jerry Magness.
"As it is right now, plan on it," Judge Moore advised Ms. Porter.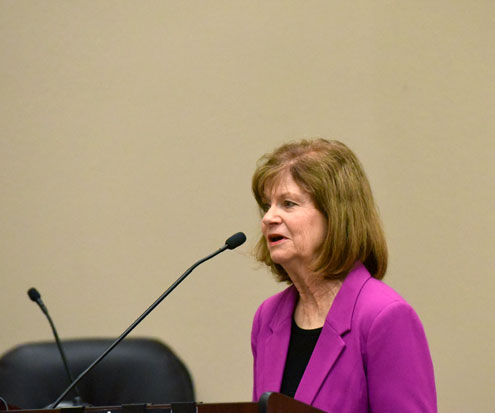 Emily Porter, Bonham Economic Development Corporation President
*****
Commissioners unanimously voted not to pay additional rent for the Grand Jury room at 800 E. 2nd Street.
*****
Commissioners unanimously voted to initiate the application process for issuing a Special Use Permit to Austin Bridge & Road for land usage at the corner of Pecan and Bicentennial in Bonham.
Eric Shranz, General Manager of Plants for Austin Bridge & Road, explained that the 10 acres across the street from the old ACT Communication building would be an ideal location for an asphalt plant because it is zoned for heavy industry and adjacent to the U.S. 82 project.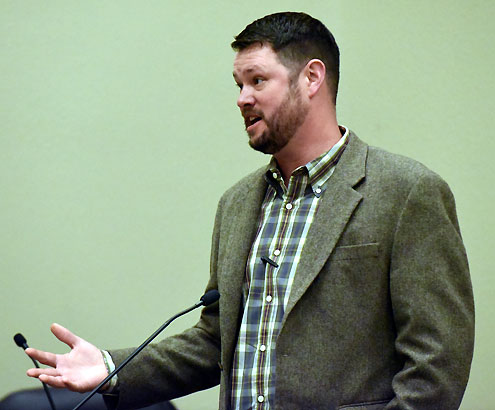 Eric Shranz, General Manager of Plants for Austin Bridge & Road
According to TxDOT, Austin Bridge & Road Services LP is currently expanding US 82 from two lanes to a four-land divided highway with a depressed median, from one-half mile west of SH 121 in Bonham eastward to approximately six-tenths of a mile east of State Highway 56 in Honey Grove, Texas.
Land owner Bobby McCraw elaborated, telling commissioners that a natural gas line and three-phase electric power were in close proximity, adding that this location was within the 5,000-ft. zoning area that encompasses Bois d'Arc Lake.
Austin Bridge & Road will also be working on FM 897 across Bois d'Arc Lake, North Texas Municipal Water District's office complex and the public boat ramps at Bois d'Arc Lake.
Commissioners expressed interest in creating more competition in the county's bidding process for hot mix.
*****
Fannin County Commissioners Court passed on agenda items 10 and 12, voted to pay bills and approved Fannin County Auditor's monthly reports.
*****
Comments by commissioners and county judge:
Commissioner A.J. Self said he was grateful for the rain and that his crew is working on machinery to be ready for dry weather. He also wished a happy birthday to Commissioner Gary Whitlock
Commissioner Jerry Magness thanked the crowd and representatives of Austin Bridge & Road for attending the meeting.
Commissioner Dean Lackey reminded county residents that the Texoma Household Hazardous Waste Collection Event will be Saturday, April 20 from 9:00 a.m. until 1:00 p.m. The Pct. 4 barn will be the collection site in Fannin County.
Fannin County Judge Randy Moore thanked everyone for their prayers after his wife's recent heart surgery. She is home now and recuperating nicely. Judge Moore was also impressed by volunteers at a CERT meeting. He thanked Carolyn Rogers and James Ellis for cooking chili for the Pct. 1 crew and he challenged residents in Pct. 2, Pct. 3 and Pct. 4 to show their appreciation to county employees.