Obituaries
Dorothy Jeanette Grimes
Mar 8, 2019
Leonard, Texas -- Dorothy Jeanette Grimes, 83, of Leonard, Texas, passed away peacefully at her home on Thursday, March 7, 2019. She was born in Hickory, North Carolina to parents, Kenneth and Sadie Eggers. Jeanette moved around for several years before meeting the love of her life, H.L. Grimes, and settling down in Leonard, Texas. Jeanette loved being mother to six children, seventeen grandchildren and thirty-nine great grandchildren. She was a member of Cross Pointe Baptist Church in Leonard, Texas.
Jeanette was devoted to her family and loved spending time with her children, grandchildren, and great grandchildren. She enjoyed raising cows, horses, and chickens on the farm located just west of Leonard, along with the everyday tasks of farm life. Jeanette also worked in public positions outside the farm for several years and spent much of her spare time with her grandchildren.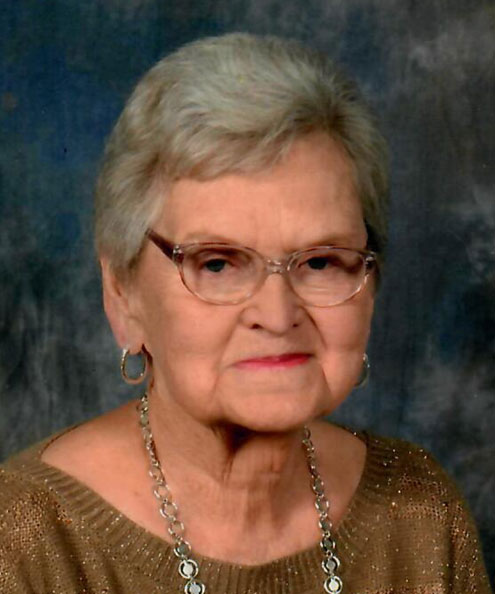 Jeanette was predeceased by her parents, Sadie and Kenneth Eggers; loving husband, H.L. Grimes; devoted son, Keith Grimes, and brother and sister-in-law, Francis and Bob Eggers.
Jeanette is survived by two sisters, Lora Jean Patterson and husband, Joe, of Whitesboro, TX and Vicki McKinney and husband, Mike, of Ashville, N.C.; three brothers: Joe Eggers and wife, Macy, Johnny Eggers and wife, Mary, and Kenny Eggers and wife, Sue, all of Hickory, N.C. Additional survivors include daughter, Lynn Allen and husband, Leonard, of Melissa, TX, daughter, Renae Kennedy of Leonard, TX, daughter, Sharon Jones and husband, David, of Sherman, TX., son, Kevin Grimes and wife, Janie, of Durant, OK and son, Charles Ritchie and wife Teresa, of Hudson, N.C. and daughter-in-law, Amy Grimes, of Lewisville, TX.
Surviving grandchildren are Christy Horton, Brian West, Sheila Allen, Jason Allen, Brice Kennedy, Jason Kennedy, Eddie Grimes, Adam Grimes, Darren McClanahan, Joe McClanahan, Clint Jones, Aaron Jones, Stacy Gudgel, Heather Vineyard, Gary Grimes, Kimra Stevens and Sarah Eckard. Jeanette never missed a chance to tell people that she was the proud grandmother of 39 great-grandchildren. She also has many loving nieces and nephews.
Visitation will be held on Sunday, March 10, 2019 from 6:00 p.m.-8:00 p.m. at Turrentine-Jackson-Morrow Funeral Home, 701 N. Cedar Street, Leonard, Texas 75452. Services will be held 2:00 p.m. Monday, March 11, 2019 at Cross Pointe Baptist Church, 22025 South State Highway 78, Leonard, TX 75452.
Turrentine-Jackson-Morrow Funeral Home of Leonard is in charge of arrangements. An online register may be signed at www.tjmfuneral.com.