School News
Austin College chef completes rigorous training
Mar 16, 2019
Sherman, Texas -- Austin College and its Dining Services partner Aramark announce Chef Josh Brigman as a recent graduate of Culinary Institute of America ProChef II Certification Training. Brigman completed CIA training in San Antonio, demonstrating proficiency in general culinary applications, basic food science, baking and pastry, healthy cooking and nutritional analysis, management and supervisory skills, dietary guidelines for Americans, and the basic concepts of financial controls of a food operation.
"Josh is a respectful leader who is passionate about providing high-quality food that enriches and nourishes lives," said Thomas Hermanson, Director of Food Services at Austin College. "His creativity allows for unique and tasty innovations. His work ethic and commitment to excellence are contagious." Brigman has worked with Aramark at Austin College since June 2017.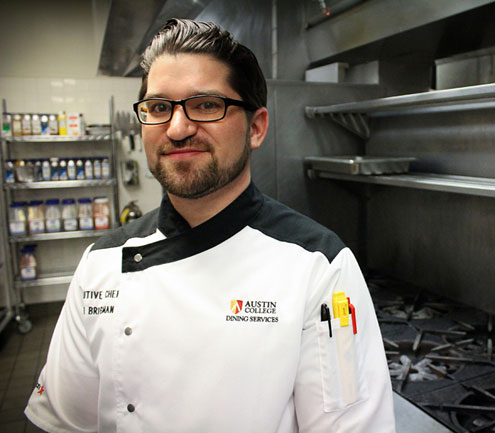 Chef Josh Brigman
"Aramark's partnership with the Culinary Institute of America is part of an ongoing commitment to provide our leading culinary chefs with the training and tools needed to excel in their careers while delivering outstanding outcomes for our clients and customers," Hermanson said. CIA is accredited as an authorized provider by the International Association for Continuing Education and Training.
"The CIA ProChef II certification has rigorous requirements and is a testament to not only the culinary skills these new graduates all have but also their overall leadership in running an operation," said Paolo Stefani, Aramark Regional Chef-Midwest Region and certified CIA ProChef III.
Aramark at Austin College is a complete custom catering business with experience in weddings, anniversary dinners, parties, receptions, banquets, corporate events, cookouts, and school functions. For more information on facility rental and catering at Austin College, contact Hermanson at 903.813.2366 or thermanson@austincollege.edu.
Austin College, a private national liberal arts college located north of Dallas in Sherman, Texas, has earned a reputation for excellence in academic preparation, international study, pre-professional foundations, leadership development, committed faculty, and hands-on, adventurous learning opportunities. One of 40 schools profiled in Loren Pope's influential book Colleges That Change Lives, Austin College boasts a welcoming community that embraces diversity and individuality, with 46 percent of students identifying as persons of color. The residential student body of approximately 1,300 students and more than 100 expert faculty members allow a 13:1 student-faculty ratio and personalized attention. Austin College is related by covenant to the Presbyterian Church (USA) and cultivates an inclusive atmosphere that supports students' faith journeys regardless of religious tradition. Founded in 1849, the College is the oldest institution of higher education in Texas operating under original name and charter.