Farm and Ranch
Texas sheep, goat prices, inventories down slightly amid strong market
Mar 12, 2019
San Angelo, Texas -- Markets for goat and sheep meat and fiber continue to be relatively strong despite softening prices and lower inventories, according to a Texas A&M AgriLife Extension Service expert.
Bill Thompson, AgriLife Extension economist, San Angelo, said production data from the sheep and goat fiber and meat markets reveal mixed signals about their place among Texas livestock.
Sheep and goat numbers are down, but prices remain high relative to their respective five-year averages and demand for meat, hair and wool continues to grow.
SHEEP
Sheep inventories are down in the U.S. and in Texas, according to U.S. Department of Agriculture data, as markets for lamb meat and wool continue to perform well, Thompson said. Lamb prices are down slightly, but consumers in traditional ethnic markets and emerging markets continue an upward demand trend.
"Whether you're talking about chops or ground meat, most large grocers have lamb on hand because of its popularity," he said.
Wool prices have dipped some since record highs of around $7 per pound in 2018, but remain very strong at more than $6.50 per pound, Thompson said. Production of wool also dipped slightly.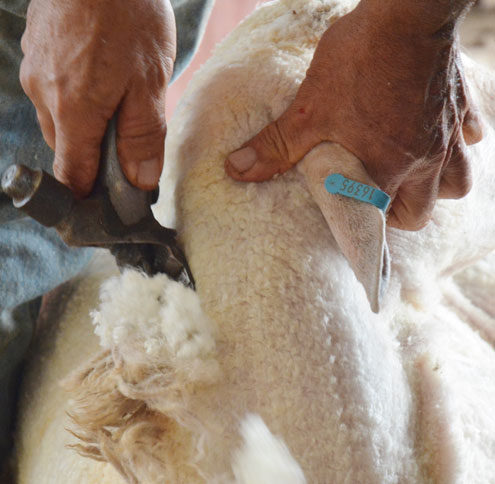 The wool market continues to be relatively strong despite a dip in prices and lower sheep numbers. (Texas A&M AgriLife photo by Steve Byrns)
Thompson said the dip in sheep inventories for meat and wool and the subsequent dip in prices are surprising because of price strength and consumer demand.
"We would expect wool production and sheep numbers to come back because wool prices are so strong," he said. "The decreases are not big, but they are still decreases. You would think the market would take account of the strong prices and grow the production side of the market."
Thompson said the Rambouillet market dropped significantly, and they were replaced with hair sheep. Labor costs associated with shearing Rambouillets and better parasite tolerance in hair sheep likely contributed to the change, he said.
GOATS
Texas continues to be the top producer of goats by a large margin, Thompson said. Texas' goat herd as of Jan. 1 was estimated at 740,000 and is larger than the next 10 states combined, which have a total of 631,000 goats.
But the state's inventory of meat and mohair goats fell 3 percent from 2018, he said. The total U.S. inventory fell 1 percent to just over 2 million animals.
U.S. mohair production was up 2 percent to 755,000 pounds in 2018, Thompson said, with 62 percent of production coming from Texas.
"The goat markets were banner for the last few years, but inventories keep dropping," Thompson said. "Imports and the value of the dollar may have something to do with that, but there is still room for producers to pencil out pretty good profits."
One possible deterrent for goat producers, especially those new to the industry, could be the animals' propensity for escape, property damage and general "mischievousness," he said.
Predation also continues to be a top concern for sheep and goat producers, Thompson said. Producers south and west of San Angelo have faced challenging losses by incorporating management practices, including the use of guardian dogs.
"It's been tough, but producers are getting better results with guardian dogs," he said. "They will have a huge impact on the industry, but it's just taking time for producers to learn how to train them and use them effectively."
Despite weakening price trends and lower inventories, Thompson said he expects demand for sheep and goat meat and their respective fibers to continue an upward trend.
"There is high demand for wool and mohair for clothing, especially high-end, high-quality natural fabrics," he said. "Consumers want natural. They want environmentally friendly and sustainable along with quality. The market for meats continues to grow as well as traditional consumers are wanting more while new consumers are trying those meats and making them trendy."