Lifestyles
Sister Grove Chapter NSDAR welcomes Ester Davis, children's and women's advocate and motivational speaker
Mar 12, 2019
Van Alstyne, Texas -- Sister Grove Chapter NSDAR of Van Alstyne was honored to have Ester Davis, community crusader of Dallas, speak at their March meeting. She shared her family story of growing up in the Houston area during the days of segregation and how she became inspired through her parent's influence in helping others to see and achieve their potential.
Her first job out of college was with the Eastman Kodak Company, which took her to New York for many years. She has worked as a model, and started The Lace Glove Modeling and Etiquette program for teens in Dallas. She hosts The Ester Davis Show, which began on free access cable and then was picked up by NBC, PAX-TV, and ION TV. She still produces this program on the internet, dedicated to encouraging positive activities for the sake of a better community.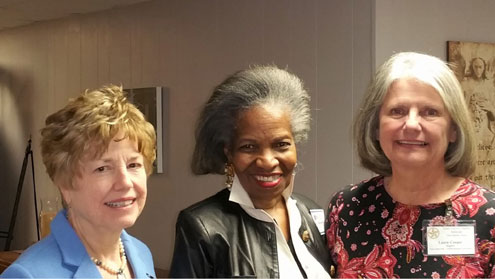 (L-R) Laura Hornbeck, Ester Davis, Laura Cooper
Esther writes for the Dallas Post Tribune newspaper, and other print and online publications. She earned a doctorate in religious studies in 2017 from Grace International Seminary in Dallas.
She has served in many volunteer capacities, including Southwest Regional Director for the National Council of Negro Women. She was chair of the Dallas Senior Affairs Commission serving with three mayors.
She is known in Dallas for her compassionate activism. Lately she has been helping homeless high school athletes— victims of family breakdown. In 2017 she escorted a contingent of about 150 inner city youth to Washington, DC, on a bus tour, raising funds from hotels, local businesses and others. Many of these youth had never been outside the city of Dallas. T. Boone Pickens, various politicians and many others have fallen under the spell of Ester Davis and supported her projects. Like the Biblical Queen Esther, she has the courage to speak up for the sake of her community overcoming all fear when people are in need and she can help.
Ester's hobbies include playing the piano and riding a vintage bicycle around her Oak Cliff neighborhood, where she has lived for over 30 years. She is a faithful attendee at the Great New Zion Baptist church. She's the widow of a Korean War veteran, the mother of two sons, two adopted sons, and six grandchildren.