Front Page
Bonham Housing Action Plan 'playbook' presented to Bonham City Council
Mar 15, 2019
Bonham, Texas -- On Monday, March 11, Bonham city staff hosted Dr. Daniel Oney, Ph.D., Principal Axianomics at a city hall open house prior to his Bonham Housing Action Plan (B-HAP) "playbook" presentation to City Council. Among those attending were local board members, Bonham Manufacturers' Roundtable participants and builders.
Dr. Oney briefly re-capped his Phase-1 Bonham Housing Market Analysis concluding that as a direct result of private sector housing investment that would normally have happened but DID NOT OCCUR in the wake of the "Great Recession" Bonham has a 400 unit housing deficit that would otherwise have been built. He also forecasts a sustainable single-family housing absorption rate of 48 new "rooftops" a year for each of the next ten years (assuming current demand and interest rate stability)! That would be approximately three (3) times the on-going build rate.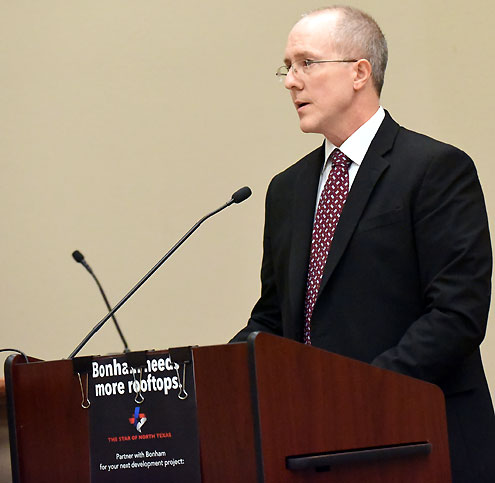 Dr. Daniel Oney, Ph.D.
In addition to those market highlights Oney outlined the five (5) elements of his recommended "B-HAP playbook" (Phase II) that when woven together make for a comprehensive local housing strategy. Inherent within each of the five elements is establishing attainable annual housing goals and then resourcing each element and strongly promoting each to their target users!
I. Support the development of a new single-family subdivision within the existing Bonham city limits,
II. Bonham should consider creating a "downtown" Traditional Neighborhood Development (TND) overlay to increase appropriate housing stock near the square,
III. Enable the creation of prefabricated housing demonstration projects to deliver attainable workforce housing,
IV. Create incentive programs to promote the upgrade and redevelopment of existing single-family homes,
V. Support the development of a garden-style multi-family community within existing city limits.
According to City Manager Sean Pate staff will craft enabling ordinances including local housing incentives in the coming weeks and bring those back to Council for their consideration.
The B-HAP has been an outgrowth of concerns about the very limited availability of quality affordable "workforce housing" expressed by Bonham's Manufacturers and clearly echoed by BISD staff as a significant factor negatively impacting retention of first and second year teachers and coaching staff who often face a daily commute to Bonham from larger neighboring communities.
Five (5) "Bonham Mfgs' Roundtable" members chipped in a total of $9, 000 to help defray the $14,000 cost of the two phase initiative with the city making up the difference.
Dr. Oney will be fine-tuning the B-HAP final report over the next ten days. Once received city staff will ensure both phases are available on-line.
Questions regarding this release may be directed to Steve Filipowicz (903) 583-7555 or
SFilipowicz@cityofbonham.org