Obituaries
Minnie Nichols
Mar 13, 2019
Melissa, Texas -- Minnie Nichols, 92, of Melissa, Texas moved on to be with the Lord on March 12, 2019 in McKinney, Texas. Minnie was the ninth child born to her parents Clarence and Christena Huff in Blue Ridge, Texas on February 7, 1927. Minnie graduated High School in her hometown, Blue Ridge, Texas. On July 27, 1945 Minnie married James Erwin Nichols and together celebrated 61 years of marriage. They resided and raised their family in Melissa, Texas. Minnie was an avid gardener, loved cooking and canning. Most every Sunday she enjoyed cooking dinner for her family to come together. Minnie was a member of Melissa Church of God.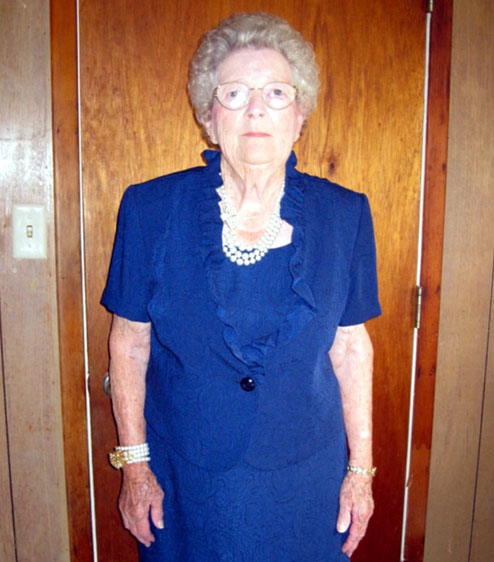 Minnie is survived by son Gary Erwin and wife Quanda Nichols, James Alton and wife Almeta Nichols, Gayle and husband Ron Thrasher, Ricky Lynn and wife Brenda Nichols, Debbie and husband Ronny Terry, thirteen grandchildren, twenty-eight great-grandchildren, 16 great-great-grandchildren plus many nieces and nephews. Minnie was preceded in death by her parents, husband James, and her eight siblings.

Visitation will be held from 6:00 p.m. to 8:00 p.m. on Thursday, March 14 at Scoggins Funeral Home in Van Alstyne, Texas, with graveside service 11:00 a.m. Friday, March 15 at Stoney Point Cemetery in Melissa, Texas. The services will be officiated by Brother Kelly Montgomery.

Scott Nichols, Tony Nichols, Jeremy Henderson, Chris Terry, Tyler Terry and Travis Denton, serving as pallbearers.

The family gives their heartfelt appreciation to the nurses and caregivers for the compassionate care provided by Belltera Nursing Home and Dignity Hospice Service.

Minnie humbly gave all her love, care and devotion to her beloved family.

Funeral services are under the direction of Scoggins Funeral Home Crematory, 637 W. Van Alstyne, Pkwy. Van Alstyne Texas 75495. 903-482-5225.

You may sign the online register book at www.scogginsfuneralhome.com.