Front Page
McKinney: Reward offered in homicide case
Mar 14, 2019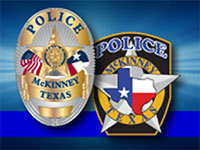 McKinney, Texas – The North Texas Crime Commission's Crime Stoppers is offering up to $5,000 for information leading to the arrest and conviction of the suspect or suspects in the March 8 incident that left one man dead.

Just after 7 o'clock that evening, dispatchers began receiving 911 calls about a shooting outside a home in the 800 block of Maples Avenue. Our officers determined that an altercation led to shots being fired into a crowd of about 30 people who were gathered out front.

James Penegar (07-13-1963) was struck and died a short time later at Medical City McKinney.

The suspect is believed to have driven off in a silver passenger car with two others inside.

We are asking that anyone with information contact Crime Stoppers at (877) 373-8477. You may remain anonymous.