Local News
1st Annual JQ Fuller Scholarship 3-on-3 Basketball Tournament
Mar 21, 2019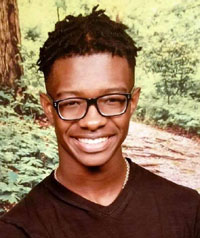 Bonham, Texas -- The Bonham Education Foundation is pleased to announce the JQ Fuller Scholarship 3-on-3 Basketball Tournament to be held at the Bonham High School Gyms on Saturday, March 23, 2019, 9:00 a.m. In addition to the basketball competition, there will be a free throw contest, concessions and more fun! Spectators are welcome. On site donations will be accepted, and receipts will be available.

All money raised from this event will be used for college scholarships in memory of JQ Fuller, who was a lifelong student in Bonham, Class of 2019.

First place prize of 4 Mavericks tickets has been donated by GK Reddy/Holiday Inn Express-Bonham. Second place prize of 4 Allen American Ice Hockey Tickets donated by the Allen Americans.

Thank you to all the teams who have signed up and to event sponsors, Panther Row Eatery, Bonham ISD, Law Firm of Brandon, Perdue, Fielder, Collins & Mott LLP, Bonham Dairy Queen, House Insurance, Cole Title, Lasalle Corrections (Fannin County Jail) and Glaser Family Charitable Foundation. Sponsorships are still available. Contact Randy Pendergrass (903) 271-2004, Mary Karl (512) 497-5690 or Jennifer Fuller (903) 640-6539 for more information about sponsorship or participation in the event. To donate for concessions please contact Andrea Lappin (903) 227-5997.

The Bonham Education Foundation is a local, non-profit 501(c)3 organization, formed in 1999, celebrating our 20th year promoting educational excellence. Current Board members are Jan Woodruff-President, Sandy Barber-Vice President, Sophia Dyson-Secretary, Steve Mohundro-Treasurer, Doug Burnside, Mary Karl, Suzanne Kennedy, Monica Kissling and Rudy Lira. All donations are tax deductible to the full extent of the law and are used exclusively to issue college scholarships, academic awards and teacher grants to support and benefit the students of Bonham ISD. Get more information at our website bonhamedfdn.org or follow us on Facebook at Bonham Education Foundation.