School News
PJC honor society holds spring induction
Apr 9, 2019
Paris, Texas -- The Beta Zeta chapter of Phi Theta Kappa at Paris Junior College held spring 2019 induction ceremonies in Paris, Sulphur Springs, and Greenville on March 4, 5, and 12. The two-year college honor society inducted nearly 120 students this semester.
PTK offers students opportunities to develop qualities of scholarship, leadership, fellowship, and service. To be eligible, students must have a grade point average of 3.5. They also may become eligible for transfer scholarships.
Inductees light a candle of light and learning and sign the official membership book as part of the ceremony. Many family and friends attended the ceremonies to help celebrate studentsí academic achievement.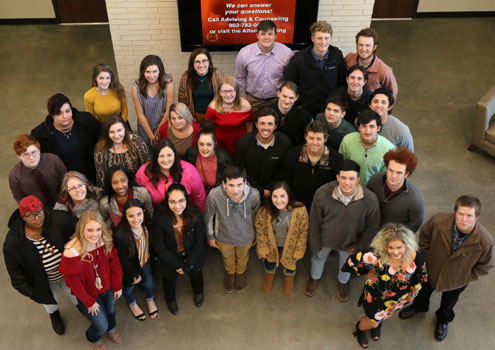 Inductees into the Beta Zeta Chapter of Phi Theta Kappa at PJC, the two-year college honor society, gathered for a group shot prior to the induction ceremony.
Newly inducted students from Texas:
Anderson: Joshua Mancuso
Avery: Erica Milligan
Bagwell: Cody Murphy
Blossom: Trynity Chapman, Christian Smallwood
Bonham: Rachael Eubank
Brashear: Jaclyn Kreager
Brownwood: Garrin Fraze
Caddo Mills: Emily Ash, Correnda Gray
Campbell: Ellie White
Carrollton: Brianna Gibbons
Center: Mildred Medina-Farias
Clarksville: Thia Lee-Buell
College Station: Wilson Roubion
Colmesneil: McKayla Marshall
Commerce: Austin Driver, Kris Garland
Cumby: Jorja Bessonett
Dallas: Wanda Nneji
Deport: Jacob Holt, Makenzie McGill
Desoto: Matthew Castaneda
Dike: Ryan Vance
Emory: Cheyenne Davis, Charles French, Luke Spoor
Forney: Rachel Hennen, Kyle Hogwood
Fort Worth: Julian Martinez
Giddings: Shelby Becker
Greenville: Stefany Calderon, Rosalba Castillo, Aline Chavez, Kadeem Johnson, Minerva Mendoza Ojeda, Matthew Phillips, Antonio Rioz, Victoria Summers, Cruz Ugalde, Luis Ugalde, Emma Winters
Jacksonville: Abbie Clevenger
Josephine: Rowdie Adams, Klarissa Warner
Lewisville: Octavia Harris
Lone Oak: Levi Smith
Mount Pleasant: Breanne Smallwood
Mount Vernon: Noah Andress
North Richland Hills: Christian Hernandez
Paris: Alison Abston, Alexis Brown, Samantha Crosby, Andrew Dollins, Stephen Edzards, Ellyanna Galvan, Alexandra Garcia, Kaydee Hauerwas, Heather Hawkes, Michayla Hawkes, Katrina Hellmann, Alissa Hutto, Joseph Kelsay, Stephanie Lahman, Dean Newnham, Steven Perry, Cortlyn Polley, Ben Ruthart, Fiona Schepis, Talyah Tolber, Aliza Tucker, Mallory Wood
Pickton: Cody Raleigh
Point: Makayla Bass, Michael Butler
Quinlan: Evelyn Coffman, Emmaline Fulton, Gage Gilbert, Kamie Lee, Jess Morris, Rachel Ruffin
Reno: Mary Chaix, Kylie Jackson, Jaycie Proctor, Megan Sanders
Rosharon: Paul Kindervater
Royse City: Devon Brawner, Lori Crawford, Matthew Grugel, Thomas Morin, Araceli Solis
Sour Lake: Caleb Dubois
Stephenville: Ian Groves
Sulphur Springs: Rene Aguilar, Chase Crouch, Paiten Daniel, Kate Flores, Justice Floyd, Jaci Glenn, Emma Hampton, Beverly Luna, Jonathan Plumlee, Miracle Ramon, Kamryn Wimberley
Sumner: McKenzy Crabb, Sara Strouse
Terrell: Makayla Walters
Waxahachie: Raymond Kennedy
West Tawakoni: Pathik Bhakta
Wolfe City: Danielle Peterson, Chance Watson
Yantis: Lanie Smith
PTK inductees from out of state included:
Kingston, Okla.: Alivia McCuan
Hot Springs, Ark.: Catherine Scales
Antlers, Okla.: Richadeena McClain
Hugo, Okla.: Mary James, Caitlin Vanworth, Heather Villar