Columnists
The Canaan Cyclone of 1919
Jun 4, 2019
How many of you have spent time in a storm cellar, waiting for dangerous winds to pass? In the writing workshops Peggy and I have taught at Austin College since 1990, the number of entertaining stories we have heard about adventures resulting from trips to a storm cellar would fill several books. Having grown up in central Texas, where tornadoes were relatively infrequent by comparison with north Texas, I was surprised when I moved to Sherman to find that the house we moved into had a prominent and sizable storm cellar in the backyard. I discovered that most older homes in Sherman were similarly equipped, and after replacing the roof of my home about five times due to hail damage, I accepted the fact that counties along the Red River had more than their share of turbulent spring storms, including high winds and even tornadoes.
Numerous destructive storms have passed through Grayson County, but one of biblical proportions is known as the Canaan Cyclone of 1919. It was part of a storm system which spread death and destruction from Hunt County, Texas to Ada, Oklahoma. My paper will focus on reports from Grayson and Fannin County. Since the storm caused the demise of Canaan, the history of that little community is sketchy. Probably it was named for the biblical Canaan, which earnest Bible scholars know was "the ancient region at SE end of the Mediterranean, extending eastward to the Jordan River; the Biblical Promised Land: Gen. 17:8."
One of the favorite hymns sung by Protestant congregations in the early part of the 20th century was inspired by that magical moment when the Israelites, after wandering for 40 years in the wilderness under the leadership of Moses, finally came to the banks of the Jordan River and looked across to the land which God had promised them for a permanent home.
The title of the hymn was "On Jordan's Stormy Banks," and these were the first words:
"On Jordan's stormy banks I stand/And cast a wishful eye,/To Canaan's fair and happy land/Where my possessions lie."
On April 9, 1919, the surviving residents of Grayson County's Canaan did not think of their home as a fair and happy land. Canaan was destroyed by a cyclone on that day and it was never rebuilt. Here is a photo taken in the aftermath of the vicious storm.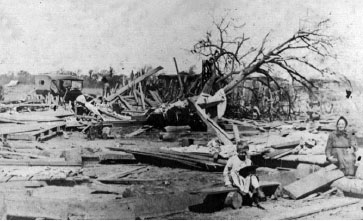 Other pictures shows six men standing among the debris. In front of them, lying on its side, is an iron safe which appears to be about 4 feet high and three feed wide. Someone had written on the old picture: "Safe weighing 1,000 pounds hurled 150 feet by wind at Canaan, Tex."
In An Illustrated History of Grayson County, Texas, by Graham Landrum and Allan Smith (1967), there is a picture of a substantial two-story house on p. 42.
The legend accompanying the picture states:
"House of Emanuel Everhart, built in the 1850s at Canaan midway between Bells and Whitewright. The lumber for it was hauled from Jefferson. In 1918, a tornado blew it away ..."
The erroneous date given there caused me to waste a great deal of time checking in newspapers for 1918 in search of reports on the storm, which actually occurred in 1919.
The word "cyclone" is seldom used anymore, but for people living in the rural areas in 1919, it was the word of choice. According to the dictionary, it comes from the Greek words meaning wheel, moving in a circle, to circle around, or whirl.
Obviously it was what we today refer to as a tornado. Here are some eyewitness accounts of the effects of the Canaan storm.
O.T. "Curley" Atkinson was born March 7, 1910. On the day of the cyclone, he was living with his family at Canaan. He was a small boy but remembered their house being torn apart. He was lifted by the wind and carried what seemed to him to be about a block, then was set down without injury. His face and body were smeared with mud. Neighbors found him and helped him find members of his family.
Here is another person's recollection of the aftermath of the Canaan storm. The naked rooster crowed. The killer storm had stripped him of his feathers. The same was true of the hens in his flock. That is what most impressed young Emma Mayo, who was about fourteen years old when she went with her family from Whitewright to Canaan the day after the cyclone had ravaged that community.
Nolen Rubarts of Rt. 1, Savoy, Texas, was 7 years old at the time of the cyclone. He wrote: "We lived at Bells at that time. My father took my sister and me over there the next morning. We weren't allowed to pick up anything. Our dad said to leave it where it was as the people might come back looking for stuff they lost. People were roaming like people at a carnival, picking up everything they thought they could use."
Mr. Rubarts added: "A freight train was coming through during the storm. People were fooled by the noise the cyclone was making, just thinking it was the train. Several box cars were blown over. Some of the things I remember were the odd things left, like a kerosene lamp sitting on a stand table at a house where just the floor was left. The lamp and chimney were still intact."
Nolen Rubarts also told of a man who was standing in his yard watching the cloud when he noticed the funnel cloud. He ran into the house to get his wife and two children to go into the storm cellar, which was full of water. The wife refused to go into the cellar. The man took the two children into the water-filled cellar and held them up out of the water. He and the two children survived. His wife died.
Mrs. Clara Owens of Bells said she was 14 at the time of the cyclone. She lived with her family just east of Canaan. Mrs. Owens told about her cousins John and Oscar Hefner and their family. They didn't have a storm cellar. The children were asleep as the storm approached. As their mother walked the floor, their father said, "If we've got to go maybe we ought to wake the children so we will all be together." They decided not to do that. The storm passed them.
Jack Pitman of Denison, who was seven in 1919, still has vivid memories of the devastation. He went to the site of Canaan with his father and the other three children the day after the storm. What impressed him the most was the sight of a dead hog with a two-by-four driven through its body. Jack also remembered a bed set out in a field. The mattress was still on it, undamaged. He remembers it being said that a man, who was not injured, was still on it when the wind set it down.
Pitman also was impressed by the sight of a Model-T Ford set on the floor of a garage, which had been blown away. The Ford was undamaged — except that the two tires on the right side had been blown off by the storm.
The cyclone that wiped out the town of Canaan was part of a monster storm system which also spawned a series of damaging twisters that blasted the towns of Ector and Mulberry in Fannin County with deadly results.
Charley Pratt of Whitesboro was born and reared at Ector. He was 11 years old at the time the cyclone destroyed Canaan and then pounced down upon Ector. Charley's memory of the storm is still bright. He recalled: "There were at least 14 people in our cellar. Charley Miller had a large family of 11, and there were three of us." He could see and hear the terrible lightning and thunder from the door of the cellar, and it came a torrential rain. The cyclone came from the southwest, and it missed their house by about a half-mile.
The next day, Charley went to school but no classes were held. The children walked with their teachers down to the scene of destruction at Ector. He remembers two-by-fours which had been driven through bois d'arc trees.
Charley Pratt knew the three Huffaker boys who lived on a farm with their widowed mother. Mrs. Huffaker and one of the boys had gone to the cellar after calling the two older boys who had been up late. Their tardiness in awakening resulted in the deaths of Sam and Cecil Huffaker, who were killed by the cyclone as it destroyed their house. They are buried at Carson Cemetery north of Ector, where markers tell the manner of their deaths.
Edwin B. "Buster" Spencer remembers his family's close call while traveling by car to visit relatives. "We had passed Bells on our way to Whitewright when Father observed a very ominous black cloud closing in from our left and rear. We pulled into a nearby farmyard but found no one at home. The ever-present storm cellar was only a few feet away, and we opened the cellar door to make our way down a ladder into the floor level. It was black as night in the cellar except when Father would raise the door a mite for a new weather inspection. Eventually, he reported the storm was passing east of us, perhaps a mile or so, and he could definitely see a tail raising and lowering.
"He finally gave us an 'all clear' sign and as we emerged, a farm couple was observed walking a couple of hundred yards up the road, obviously coming home to their place where we were. After exchanging greetings, they explained their trip had been to a neighbor's farm to use their storm cellar.
"Since they obviously had a cellar of their own, we wondered why they would not use it and told them we appreciated their hospitality, whereupon they exclaimed, 'You-all used our cellar! It has not been used in years and is full of snakes, spiders and about everything else, so we use our neighbors'.
"We proceeded on to Whitewright and did not learn Canaan had been wiped out until the next day, but we have always believed 'our storm' and the Canaan blow was one and the same."
No less interesting are the contemporary newspaper reports. A dispatch from Fort Worth dated April 9, 1919, dramatically began: "Coming from the cloud-draped heavens, sweeping across the country with cyclopean fury, respecting no person nor community, devastating like some destroying angel, a wind storm charged across the plains portions of Texas and Oklahoma, crushing, mangling and killing over 100 innocent victims and injuring several hundred more.
"Besides the loss of life, the property losses will run into millions of dollars, as houses, churches, school houses, growing crops and livestock were destroyed to an extent almost beyond human conception."
Not to be outdone, in its morning edition for Thursday, April 10, 1919, the Sherman Courier's headlines shouted: BLIND FURY OF TORNADO KILLS AND MAIMS: DESTROYS PROPERTY.
If that didn't capture the attention of readers, this most certainly would: ANGEL OF DESTRUCTION PASSES OVER TEXAS.
And the last one: CYCLOPEAN FURY OF DEATH STORM would arouse anyone's curiosity.
The Courier story included these details: "In the town of Canaan, near Sherman, 16 houses, a cotton gin, a church, a school house and a cotton warehouse were destroyed. A Katy freight train was picked up from the rails over which it was running and blown off the right-of-way. The caboose brakeman and the conductor were badly injured."
Reports in more personal terms of the devastation the storm caused in Mulberry appear in the April 11, 1919, issue of the Fannin County Favorite:
The little village of Mulberry, on Red River five miles northwest of Ravenna, was completely destroyed, except the home of Allie Hall, which was left standing. Fred Wisely and Mrs. Ira Wisely were killed. Mrs. Will J. Morrow was seriously hurt.

Shortly after 9 o'clock a message from Ravenna asked that physicians be sent to Mulberry at once, as there were many people in that community who had been hurt, and the local physicians were not able to attend them.

Luther Ware and Drs. Nevill, Carleton and Rayburn went down there to assist, as did quite a number of others who hoped to be of some assistance.

It is reported that E. M. Price and wife, Harry Price and wife and a child of Mulberry were also killed. Yesterday afternoon late the little three year old child of Mr. and Mrs. Lafe Price, who were killed at Mulberry, died in the hospital here (at Bonham).

There are now in the hospital here for treatment, Mr. and Mrs. Ashford and four children, Sarah Wilbur, Nephi and Alma, from near Ector; Ira Wisely, Mary Emma Price and little brother and Mrs. Cain and baby of Mulberry. Mrs. Cain's baby is unhurt. Dwight Wisely, who was in the hospital yesterday, has been taken home by Mrs. Henry Holland, who will care for him for the present.

The seven victims of the storm who were brought here yesterday for preparation for burial will be taken to Mulberry at 1:30 this afternoon for burial.

Yesterday afternoon eight bodies of those killed in the Mulberry cyclone were taken from Wise undertaking house to Mulberry, where the funeral service was conducted. Dr. E.W. Alderson made the address, Rev. Tittle and O'Malley of this city and Rev. Manning of Ravenna taking part.

Lafe Price, wife and three children were buried in one grave. Fred Wisely, Mrs. Ira Wisely, and Mrs. Vaughan were buried in separate graves.

There were a number of singers who went from here, and who sang some beautiful old hymns at the graves. A great concourse of people from here and from the community round about were present.
A comprehensive article appeared in the Whitewright Sun dated April 11, 1919.
Not less than 75 people have been more or less seriously injured, and property damage will approximate a quarter of a million dollars. Such is the toll of the cyclonic storm that struck Delba, a small settlement south of Trenton, between 12 and 1 o'clock Wednesday morning, traveled in a northwesterly direction through Trenton, passing a half-mile east of Whitewright and spending its force some eight miles northwest of this city.

Every house in the path of the storm was blown down or was badly wrecked. The little community of Canaan, two miles north of Whitewright, was completely swept away and the debris scattered over a wide area. A Katy freight train approaching Canaan at the time had 36 cars blown from the track.

The Presbyterian church house (at Canaan), school house, store, Vaughn & White gin plant and warehouses, the railroad cotton wharf, and five residences near the gin were effaced. Three other residences near the gin were demolished. One of these was a two-story house occupied by Uncle Dave Alverson.

J. D. McMillin and family were spending the night at this house when it crumbled to earth in a mass of materials. None of the occupants was injured. Frank Clark and children, Walsh Clements and family, Grover Atnip and family and a Mr. Yelvington and family occupied four of the five cottages near the gin. All of these people took safe refuge in storm cellars, except Mr. Atnip and family.
Viewing the Canaan storm from the perspective of more than four decades later, a clipping from the Sunday, July 28, 1963, issue of the Sherman Democrat contains a well-written column by staff writer Pete Wittenburg, with this headline: "Night of Terror Recalled When Tiny Town Died."
Accompanying the article is a picture portraying three men, all wearing hats and white short-sleeve shirts, and standing beside what appears to be the front of a concrete storm cellar. The legend beneath the picture tells us:
Forty Years Later–Bill White, Charlie Ayres and Russell Summers, left to right, all of Whitewright, check this flooded, weed-covered storm cellar that is the only remains of the Canaan community that was swept away in the 1919 tornado. White's father, also Bill White, was the owner of the Canaan gin. Ayres is a nephew of Jim Ayres, who owned the Canaan store. Summers, now Whitewright mayor, witnessed the tornado from his Trenton home as it moved toward Canaan.

The three men shown have been well and favorably known to the people of the Grayson-Fannin area for several decades. Bill White, Sr., not long after the cyclone, moved his gin to Whitewright. Jim Ayres opened a new general store in Whitewright. His nephew Charlie Ayres later became owner and converted the business into a dry goods store.
Also accompanying the article is a map or sketch depicting the path of the storm moving north through Delba (just west of Leonard in Fannin County), on north through Trenton, veering to the northwest. About halfway between Trenton and Whitewright, the storm (as shown in the sketch) seems to have split, with one section moving northeast through the southeast corner of Ector and on past the northwestern outskirts of Bonham. Mulberry is not shown on the sketch but we know it was zapped as hard as Canaan was.
The other section of the storm continued in a northwesterly direction, passing close to the northeast corner of Whitewright and on to Canaan. The path as shown on the sketch veers more to the north after it leaves Canaan and appears to be headed directly toward Bells.
Fortunately for Bells, the cyclone, as shown on the sketch, apparently lifted about halfway between Canaan and Bells, for the drawing of the route ends there. People in Bells may have viewed this as a miraculous deliverance. Those living at a distance probably deemed it an example of the eccentric behavior of Mother Nature.
Speaking of eccentric behavior, the Democrat article reports these examples:
• A picture of Whitewright Mayor Russell Summers' uncle was blown from the house of his grandparents — and found later in Oklahoma.

• A garage door in Trenton dropped to earth in Whitewright.

• Half the gravestones in Whitewright's Oak Hill Cemetery "blew over as if they were paper," in the words of Whitewright City Clerk Harold Doss.

• Rocking chairs leaning against the wall of a Trenton furniture store were still in place after the wall was scattered rubble.

• And although the house and outbuildings of Tom May crumbled into stone and dust, one of May's hens remained sitting undisturbed on her eggs.

• Russell Summers was in his family home near Trenton.

Because of three feet of water standing in the storm cellar, the family had to remain in the house. Summers said, "I was sitting in my upstairs window and I could watch the black cloud pass." The house of one of his uncles, M. H. Barrett, was endangered. When friends came to his rescue the next morning, Barrett was calmly playing his fiddle. (Wonder what he was playing?)
The Fannin County Favorite, in the weeks following the great April 9, 1919 storm, reported these unusual consequences:
• A purse belonging to Mrs. G. M. Huffaker, who lived just west of Ector, was found by L. M. Esque on Bokchita Creek near Caddo, Okla. Also a book that contained some papers with Mr. Huffaker's name and address on them. "Although it had been carried some 50 miles in that storm, it gave no evidence of having been wet.

• L. H. Whittenberg, living west of Atoka, Okla., saw a large placard on the ground in a wooded area. He picked it up and saw it was a card used by Robert Miller, who ran for office in this (Fannin) county in 1916. It had been tacked up in a protected place and the storm carried it over into Oklahoma.

• On a wall of Ab Barrett's home near Trenton hung a portrait of his son, Ira Barrett, a Fannin County commissioner. On the night of April 8, 1919, the storm struck the house and blew it away. The day after the storm a man found the portrait on the ground between Durant and Muskogee. A friend recognized it as a picture of Ira Barrett. It was securely packed and, along with a letter of explanation, mailed to Mr. Barrett.
The report concluded:
If you can explain how a storm that tore forests and towns and fields to shreds and carried the debris for miles, could pick up the picture, carry it more than 50 miles and deposit it on the ground practically uninjured you can take the pup. But ... the storm did that very thing, and one that there is no explanation for, so far as human wisdom goes.
Bob Fleming, well-known Grayson attorney and native of the Bells-Ambrose area, recently recalled that Gomer May (pharmacist and long-time operator of May Pharmacy in Sherman) once told him this story:
Tom May, Gomer's father, was a pharmacist. The family lived just northeast of Whitewright. In 1919, shortly before the Canaan cyclone, Tom May attended a pharmacist's meeting in San Antonio. While there he wrote a letter to the family, placed it in an envelope and sealed it.
Not having a stamp handy, he placed the letter in his pocket, never mailed it, and took the letter home with him. The storm that ravaged the area on the early morning of April 9, 1919, destroyed the May residence and Gomer's father and mother died as the result of injuries received.
Several days later, the letter Tom May wrote in San Antonio and addressed to his wife and children was delivered to the post office at Whitewright, properly stamped and postmarked somewhere in southwestern Missouri. No explanation of where the good Samaritan found it. No name. No nothing. Just the letter, the stamp and the postmark.