Obituaries
Jake Henry Fitch
Apr 1, 2019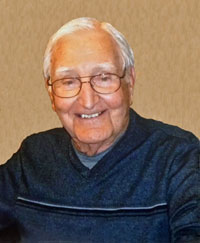 Bonham, Texas -- Funeral services for Jake Henry Fitch, 89, of San Antonio, Texas, former longtime resident of Corpus Christi, Texas, will be held at 3:00 p.m. on Wednesday, April, 3, 2019 at Cooper-Sorrells Funeral Home in Bonham, Texas. Bro. Gene Owen will officiate. Interment will follow at Carson Cemetery in Ector, Texas, with full military honors rendered by the United States Air Force Honor Guard. Mr. Fitch passed away on Saturday, March 30, 2019 at The Enclave Skilled Nursing Center in San Antonio, Texas.

Jake Henry Fitch was born on September 14, 1929 in Ector, Texas, to Jones and Eunice (Baker) Fitch. He married Helen Marie Harvill on April, 4, 1952. Mr. Fitch retired after serving 21 year in the United States Air Force.

He is preceded in death by his Wife of 50 years Helen Marie (Peggy) Fitch, Daughter- Margaret Westbrook, Parents Eunice Baker Fitch and Jones Fitch, Sister-Geraldine Skiba and Brother-James Fitch.

Survived by: Son Michael A. Rushing and wife Elizabeth, Grandchildren: Vicki Chavez, Shannon Miller, Mark Lozano, Allison Westbrook, Jeff Westbrook, and Stephen Westbrook. Great-grandchildren: Christine Barfoot, Austin Miller, Amanda Miller, Jacob McClintock, Grace McClintock, Sarah McClintock, Lindsay Martinez and Great-great granddaughter: Thea Katherine Martinez.

Serving as pallbearers will be his loving family members.

Visitation will be held prior to the service starting at 2:00 p.m. and will continue until service time at 3:00 p.m. at Cooper-Sorrells Funeral Home, Bonham, Texas.