Lifestyles
2019 Grayson County Master Gardenerís Spring Plant Sale May 4
May 3, 2019
Sherman, Texas -- The Grayson County Master Gardeners Annual Spring Plant Sale will be Saturday, May 4 at Covenant Presbyterian Church, located at 322 West Pecan Street in Sherman across from Piner Middle School.
The sale runs from 8:00 a.m. until noon.
Master Gardeners Michelle Haynes and Debra Felske are co-chairing the event this year.
The inventory of plants includes trees and shrubs, such as American Beautyberry bush and Nandinas, ornamental plants such as Muhly Grass, Cannas, Zinnias, Rose Campion, Ironweed, Indian Blanket flower, Bush Morning Glory, Yucca, groundcovers, houseplants, and a variety of herbs and vegetables.
Master Gardeners will be available to answer any gardening questions during the sale.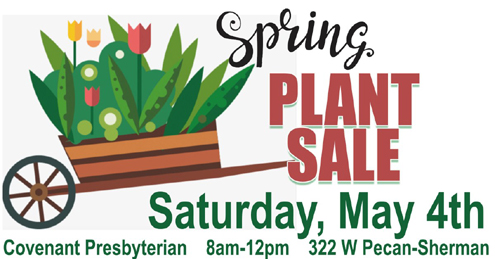 Proceeds from the sale support the Master Gardeners projects:
The Veteransí Memorial at Fairview Park in Sherman, Eisenhower Birthplace in Denison, McGee Meditation Garden at First Methodist Church in Sherman, Groff Beds at the Grayson County Courthouse, the memorial garden at First United Methodist Church in Whitesboro, the garden at the entrance to Eisenhower State Park, and a garden at the Hagerman National Wildlife Refuge.
Grayson County Master Gardener Association supports Junior Master Gardeners programs at Tom Bean ISD, Gunter ISD, and Sherman ISD.
They also help landscape homes built by Habitat for Humanity in Grayson County. Additionally, the Grayson County Master Gardeners award scholarships to students studying horticulture.
The Grayson County Master Gardeners Association is a 501(c) 3 non-profit organization that is a part of the Texas A&M AgriLife Extension Service but does not receive project funding from the Extension Service.
The Master Gardeners mission is to educate people about horticulture, which is the science of growing plants.
To contact us for more information about the Spring Plant Sale or any of the Grayson County Master Gardeners projects, visit our website at www.graysoncountymastergardeners.net.
See you at the plant sale!