Local News
Bonham Police Department identifying junked or abandoned vehicles
May 14, 2019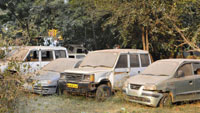 Bonham, Texas -- Beginning in May 2019, the Bonham Police Department will begin to identify junked or abandoned vehicles as described by Ordinance No. 774 of the City of Bonham. (ordinance may be viewed at www.franklinlegal.net , Article 8.04, Section 8.04.001)

Once vehicles in violation of this Ordinance are identified, Bonham Officers will issue Citations to the owners of the vehicles and/or the property owner where the vehicle is located. Once an individual is issued a Citation, they will have ten (10) days to abate the vehicle or appear in Municipal Court for the violation. This effort is in response to the growing number of complaints the Bonham Police Department receives from property owners around the city who are concerned by the unsightliness of the vehicles and the hazards they present.

The Bonham Police Department is asking those who may be in violation at this time to remedy the problem before Officers begin to issue Citations which could result in a fine of up to $200 per day there is a vehicle in violation, plus Court Costs.