Lifestyles
Great inspirational music on a Sunday morning - this Sunday
Jul 5, 2019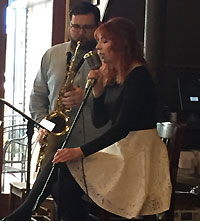 Sherman, Texas -- There aren't many places other than churches where you can get your dose of great gospel tunes on a Sunday morning. And there are even fewer bars where that happens, but its happening in one historic downtown Sherman bar and restaurant. Old Iron Post has Sunday brunch every Sunday, and once a month they have Brunch with a Gospel Garnish to feed your hunger and feed your soul.

On July 7 along with brunch which is served from 10:00 a.m. to 2:00 p.m. each Sunday, Three River Collective with Victoria Cook will present all your favorite gospel tunes. This talented group of musicians, which includes Dr. Tristan Eggener of Southeastern Oklahoma State University Music Department, Chris Dickson an SOSU alum and band leader at Durant ISD, among other talent, bring a sultry, jazzy tone to these traditional classics from 11:00 a.m. to 1:30 p.m.

Old Iron Post Sunday Brunch includes great menu items like the Brunch Burger, Scotch Eggs, Chicken & Waffles, Breakfast Hash, Green Eggs & Ham, and more, a Bloody Mary bar and $2 Mimosas and more. If you prefer, the regular Old Iron Post menu is available after 11:00 a.m.

More information can be found on the Old Iron Post Facebook page or by calling 903.892.8211.

Don't miss this fun and inspirational event.