Lifestyles
McKinney artist wins award at 44th Annual Western Federation of Watercolor Societies exhibit
May 8, 2019
San Diego, California -- Jeffrey Jensen, SWS, WFWS has won the Philip G. Paratore, Jr. Award in the 44th Annual Western Federation of Watercolor Societies exhibit, held this year at the San Diego Watercolor Society in the May.
Acclaimed juror Kathleen Conover said of the work, "For this small piece – it's a very intimate size – everything is there. St. Paul Station has got a very strong, simple composition. It reads well from across the room. There's an alternation of warm and cool neutrals."
Jensen is a 37-year veteran in the design industry as a registered architect. His travels have afforded him the opportunity to witness the many diverse cultures, people, and traditions of locations all around the world. His passion for architecture and the built environment has fueled his 40-year love affair of trying to capture the very essence and mood of one of those memories on paper or canvas. He is equally comfortable with capturing the spontaneous play of light and its effect on color and texture within his various landscapes. His work can best be described as impressionistic realism.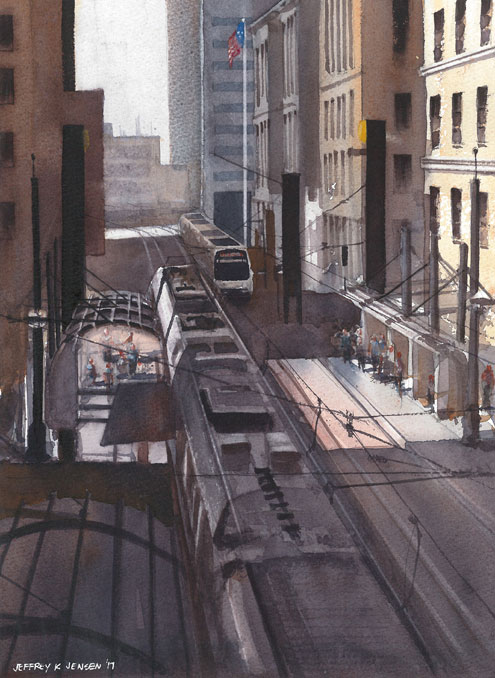 Jeffrey Jensen, SWS, St. Paul Station - Philip G. Paratore, Jr. Award
Most of Jensen's work is small, as his primary studio is often an airplane seat during his work travels. These small paintings can be the studies for larger studio pieces but ultimately stand on their own as sensitively rendered watercolors covering an incredible variety of subjects.
Jensen is Signature Member of the Southwestern Watercolor Society, The Western Federation Watercolor Society, and is registered Architect with the American Institute of Architects, Texas Society of Architects, and the Dallas Chapter AIA. He is also a past officer on the Board of Directors for the Dallas Architectural Foundation. In addition, he has taught watercolor workshops and lectured at both national and international symposia and conferences.
Western Federation of Watercolor Societies Exhibition (WFWS) was founded in 1974 by the New Mexico Watercolor Society through the foresight and work of Dr. David Gale (1915-1980). The purpose was to make a large and prestigious watercolor exhibition available, at low cost to members, for small and often isolated watercolor groups. Today WFWS includes over 5000 artists in eleven societies. The Exhibition attracts hundreds of artists throughout the western United States. Each year a different member society hosts the event. The WFWS mission is to encourage and recognize artistic excellence and promote the visibility of watercolor in the West.
The exhibition will continue at the San Diego Watercolor Society's art gallery every day in May. The Opening Reception was held Friday, May 3, from 5-8 pm. The gallery is located in The ARTS DISTRICT Liberty Station at 2825 Dewey Road, Bldg. #202 and is open Monday through Saturday from 10 am to 4 pm and Sunday from noon to 4 pm. Both the Exhibition and the Opening are free to the public.
ABOUT SAN DIEGO WATERCOLOR SOCIETY
The San Diego Watercolor Society, a 501(C)(3) non-profit organization founded in 1965, is dedicated to expanding the appreciation of and involvement in watermedia painting through education, exhibition, and promotion. SDWS presents a new juried exhibition at their Gallery in the ARTS DISTRICT Liberty Station each month with an Opening Reception on the first Friday of each month from 5-8 pm with great original art, refreshments and the companionship of other art enthusiasts. Both the Gallery Exhibition and the Reception are free. The Annual International Show held in October features award-winning artists from around the world. SDWS also offers Workshops and adult Beginner Lessons in addition to weekly and monthly Plein Air painting opportunities. More information can be found at http://www.sdws.org.