Lifestyles
Courthouse painting on display at Fannin County Historical Commission
May 15, 2019
Fannin County, Texas -- A delightful depiction of the dedication of the Fannin County Courthouse in 1888 is now on display at the Fannin County Historical Commission, thanks to a loan from the Sam Rayburn Library and the Briscoe Center.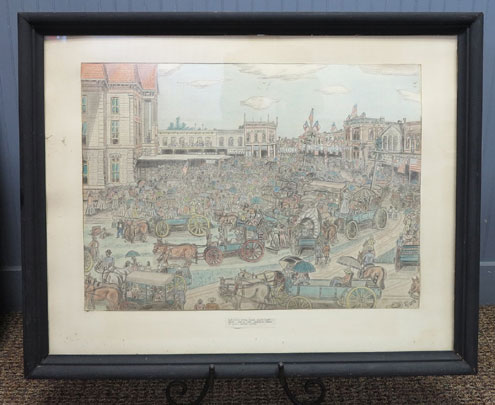 This painting, created with crayons, was the work of Bill Richards, who donated it to the Rayburn Library. We are pleased to have it on loan at the Commission offices, in the old Depot Building three blocks south of the Courthouse Square. The Commission office is usually staffed on Tuesday, Wednesday and Thursday afternoons, and visitors are welcome.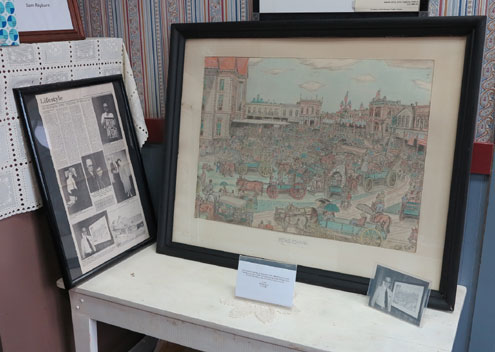 Historical Commission volunteer Jacqueline White did a feature article on Bill Richards in the Bonham Daily Favorite of June 16, 1996, and he was quite an interesting man. Jacqueline notes in her article that Mr. Richards in 1953 opened the Bill Richards Grocery in Bonham, and that "during the nearly ten years he operated the grocery he achieved much publicity for creating a mural on the ceiling out of soda pop caps." He estimated that 70,000 pop caps were used to create the mural, which was a map of the world. Richards used red root beer caps for Russia and Cuba, blue cap for Texas (for bluebonnets), etc. The store burned down around 1963. We have not been able to locate a copy of the mural, but the photo below from the Denison Herald (January 13, 1963), shows the border to the mural, which are sketches of Bonham churches. [If anyone has a photo of the mural we would love to have it.]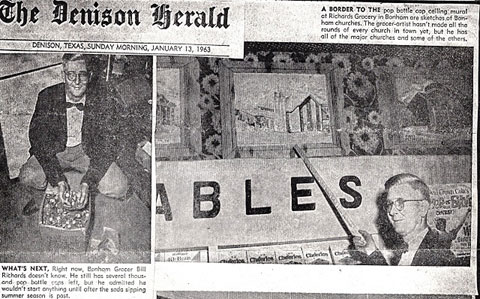 A sketch Mr. Richards made of his store is below.