Local News
Art Walk May 11 shows off Bonham; wineries visit the Creative Arts Center that day
May 10, 2019
Bonham, Texas -- The Red River Art Fest on Saturday, May 11 from 9:00 a.m. to 6:00 p.m. includes an Art Walk to businesses in and around the Bonham Square. Even residents enjoy this chance to visit a business they might not otherwise walk into. The Art Walk is a popular aspect to the festival each year and participants can win a prize and instantly receive a goody bag.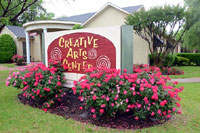 "The principal of the Art Walk is a little like a scavenger hunt," says Creative Arts Center Executive Director Lisa Avila. "Families enjoy searching for the artwork that is displayed in the businesses which participate. Each Art Fest guest who wants to join the Walk receives a small book called a 'Passport' that includes the names of the businesses where we have placed art and a map of their locations. There is also a form in the Passport where the titles of the art should be filled in. Sometimes, we place art so you get a tour of store. You might even find something you'd like to purchase there while you search."

When guests return to the festival with the titles filled in, they may drop their forms in the entry box and a drawing for a lovely gift basket donated by Bonham Floral and Greenhouse is at the conclusion of the festival. This year's Art Walk businesses are The Commisary, the Breakfast Stop, Main Street Title, E.L. Finney's General Store, Blessings and Butterflies Kid Couture, The Village Antiques & Uniques and the Bonham Visitor's Center. Businesses that are not open during the festival will have artwork displayed in a window where the titles of the art will be clearly visible.

Wineries are a central part of the festival as well and include local favorite Homestead Winery and Cooley Bay Winery of Van Alstyne, Seifert Cellars of Millersview and Blue Duck Winery of Albany. Each winery offers a wide selection of great wines. Tasting, glasses and bottles will be available for sale. Admission to the wine event is $10 and participants receive an Art Fest wine glass and wine bag.

For more information about the Red River Art, Wine & Music Fest on Saturday, May 11, contact the Creative Arts Center or visit their website at www.creativeartscenterbonham.com or Facebook.