Lifestyles
Deja Vinyl featured at free concert May 11 at Powder Creek Pavilion
May 11, 2019
Bonham, Texas -- Deja Vinyl will take the stage May 11, 2019 at Powder Creek Pavilion for a free concert, beginning at 8:00 p.m.
"They are one of the best locally-based bands that play a combination of classic rock/dance music," says promoter Rick Massey. "One of the things I like best about them is they have fun. They truly enjoy what they do and it comes through. Don't take my word for it -- come on out and listen to them! This concert is free and we want to show off our new facility. Hopefully it doesn't rain May 11, but we are going to have this concert rain or shine."
Powder Creek Pavilion is located at 520 South Center Street in Bonham, Texas 75418.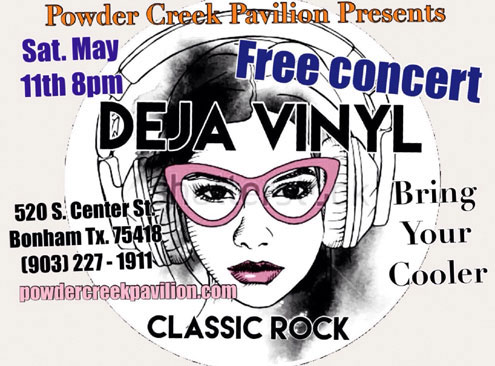 For more information, please visit www.powdercreekpavilion.com or call 903-227-1911.