Local News
Bois d'Arc Lake Lake Zoning Commission hears request for zoning change
May 8, 2019
Fannin County, Texas -- Jason Weisz has a compelling vision for his family's land bordering Bois d'Arc Lake, a vision that includes fine dining in a restaurant that extends out over deep water, a gated residential section, a wedding venue, 60 cabins, a dance hall, camping spots, a dock and maybe even a Marriot Hotel.
Monday, May 6, 2019, at a Bois d'Arc Lake Zoning Commission work session, Mr. Weisz presented his vision to lake zoning commissioners as part of his request to have the land zoned for commercial use.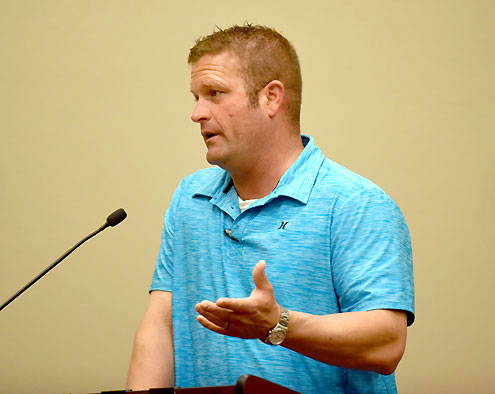 Jason Weisz
Bois d'Arc Lake Zoning Commission is expected to make a recommendation regarding this request at its next regular meeting May 16. Fannin County Commissioners Court would then consider the zoning commission's recommendation and, if the request moves forward, citizens would have a chance to voice their feelings at an initial public hearing before Bois d'Arc Lake Zoning Commission and again at a second public hearing before Fannin County Commissioners Court.
Weisz feels time is critical because he needs to do earthwork during the predominately dry summer months and feels that he has a verbal agreement with North Texas Municipal Water District (NTMWD) that would allow him to work below the 541-foot elevation "take line" mark, which is the property of the NTMWD. When pressed by the lake zoning commission, Wise said there was no contractual agreement at this time.
The formal shoreline plan is expected to be released in the spring of 2020. The final plan will address land access around the lake as the water level fluctuates. Tentative plans call for landowners' boundaries to extend to the waterline when it recedes, which would mean that only the landowners would be permitted to use that land.
Members of Bois d'Arc Lake Zoning Commission expressed some concern over the lack of a preliminary business plan from investors behind this project, as well as more detailed maps that might aid the zoning commission as it deliberates this request. However, commissioners seemed to view this potentially significant development with tempered enthusiasm.
"The county would love to see this happen," remarked Fannin County Judge Randy Moore, chairman of the Bois d'Arc Lake Zoning Commission.
Weisz pointed out that Freese and Nichols, Inc. consulting firm recommended that this land be zoned for commercial use and added that the investors behind this development need to know the land will be zoned commercial before committing to the project.
Weisz said his investors believe this location on the newest lake in Texas would make a great location for un upscale wedding venue because of the large number of families that are currently scheduling wedding ceremonies at venues near Beavers Bend in southeast Oklahoma.
"We could cut their traveling time in half," explained Weisz. "We are trying to captivate business now going to Beavers Bend."