Lifestyles
Hwy 82/287 Yard Sale is coming again
May 28, 2019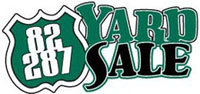 Bonham, Texas -- Friday, JUNE 7 and Saturday, JUNE 8 are the dates to remember. This is a community-wide sale event. Because of the advertising done by the Red River Valley Tourism Association, this event draws people from the Dallas and Fort Worth area as well as the surrounding states.

There will be 20 cities included in this sale. Do not miss out on this chance to participate in a sale for your church, business, or your non-profit organization.

Call now to list your sale with the Visitor Center and be on the map that the City of Bonham will distribute to any shopper who is looking for shopping opportunities. Clean out the attic, dust off the antiques, raise money for your charity.

To register your sale: call the Bonham Visitor Center- 903-583-9830 or check out www.visitbonham.com for more information.