Columnists
Mama---Mission Impossible
May 14, 2019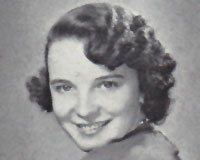 Arline MacDonald

"I rescued your mother and brought her to Texas," my dad would say. Nestled in New England surroundings, my mom grew up in Hartford, Connecticut, where meat was grilled, broiled, boiled, or baked. Little did she know what was in store for her.

My grandfather MacDonald was quite a few years older than my grandmother MacDonald, and he was in the restaurant business. As a result, my grandmother never had to learn to cook. You read that correctly. SHE NEVER LEARNED TO COOK. Likewise, my mother married my dad in 1943 with no cooking skills. Zilch. Nada.

That changed in 1944 when my dad was deployed overseas as a troop carrier during WWII. For the next year, Mama and my sister Kathy lived with my grandmother Currin…in TEXAS. She learned to hem a skirt, sew on buttons, and even make clothes for Kathy. Too, she learned to hook a rug, play canasta, and make homemade ice cream.

When my dad returned to the States, my mom could fry chicken, make 40-weight gravy, can cucumber pickles and put up jelly. She could roll out a homemade pie crust for old-fashioned strawberry shortcake and season black-eyed peas with bacon fat. My mama learned to make cornbread just like my dad liked it---thin and crispy.

Mama became a homemaker extraordinaire, and it all began with devotion to my dad. She presented him with heaping platters of chicken fried steak, skillet fried potatoes, bowls of steaming cream gravy, seasoned and cooked-to-death green beans, and a myriad of pies and cakes. (If Mama's gravy was too thin, Daddy would ask, "Arline, could you tighten the gravy a little bit?")

Here's the kicker: She was a New Englander, born and bred, and she never learned to like fried foods or gravy. For that matter, she never ate watermelon or black-eyed peas. I take that back. She ate one black-eyed pea (ONE!) every New Year's Day for good luck. The only New England food that Mama introduced to Daddy that he really liked was broiled steak…with lots and lots of ketchup.

Mama's devotion to Daddy took a turn when she realized that his health needed a restructuring in the food department. After many, many years of pleasing Daddy with delicacies from her kitchen, she began slowly changing the way she cooked so his diet would be healthier. He learned to eat baked chicken, broiled fish, and tons of salad.

When he traveled with his buddies to the deer camp, they would stop to grocery shop for the week. Away from their diet-conscious wives, the guys bought real butter and sinful sweets. To their dismay, though, every label seemed to have the word "Light" on it. Daddy said, "It's hard to find cholesterol these days."

Don't feel sorry for my dad for having to eat leafy greens, un-fried everything, and salt substitute at Mama's table in his later years. He said to me once: "I appreciate your mother more and more every day for the healthy way she cooks for me." Then he added: "Here. Take this money and get me some Blue Bell Homemade Vanilla. Put it in the freezer in the outdoor fridge. Your mother won't check out there. This is our secret, okay?"

Something told me it wouldn't end well. That freezer was where Mama hid her cigarettes.