Lifestyles
Bob Livingston returns to Harmony House June 2
Jun 2, 2019
We couldn't be more delighted to host Bob Livingston here at Harmony House Concerts on Sunday, June 2, 2019, 4:00-6:00 p.m.
Robert Lynn "Bob" Livingston (b. 1948) is an American singer-songwriter, bass player, and a founding member of The Lost Gonzo Band. Livingston was a key figure in the Cosmic Cowboy, progressive country and outlaw country movements that distinguished the Austin, Texas music scene in the 1970s. Over the years, Bob has gained a reputation as a band leader, solo artist, session musician and sideman in folk, Americana and country music. He has toured without stop for 47 years and is one of the most experienced and world traveled musicians in all of Texas music. Livingston's CD Gypsy Alibi, released by New Wilderness Records in 2011, won the Album of the Year at the Texas Music Awards. In January 2016, Livingston was inducted into the Texas Music Legends Hall of Fame and, in 2018, was inducted into the West Texas Music Walk of Fame. Howlin' Dog Records released Livingston's latest CD, Up The Flatland Stairs, in January 2018.
This storyteller/masterful singer-songwriter's performances always 'blow us away' — starting from the High Plains of Lubbock, Texas, and sweeping the country like a 'dust devil'; then, throughout India, Pakistan, Vietnam and more — his shows are captivating and just fun for all! We invite you to be a part of this fascinating musical journey. Bob will play two 45-minute sets with a 30-minute intermission for you to graze the snack tables and get him to sign your CDs, your boots, or your cowboy hat.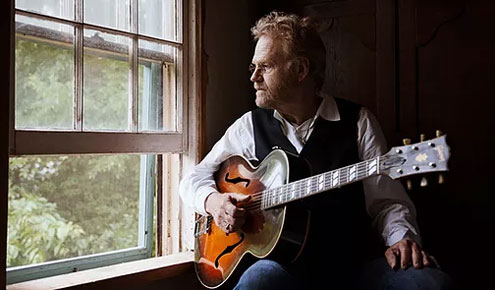 Make reservations early by calling 903-583-2661, leaving your contact information (preferably e-mail address) and number of seats desired. Reservations are $15 per person, cash or checks payable to "Bob Livingston". To prepay, you can mail your check to Faye Wedell; P.O. Box 812; Bonham, TX 75418, to be received by May 29th. Guests may opt to pay at the door at the Reservation Table. However, if you make a reservation, either show up or cancel in a timely manner. No-shows are a No-No! Seating is limited to about 50 guests. Bob's shows are usually sold out, so we will keep a waiting list in case of cancellations.
Faye & Scott are your hosts in their vintage home located on Wildscape Acres, 10 miles north of Bonham and approximately 65 miles NE of Dallas. Everyone is welcome! We will provide bottomless cups of coffee, several types of tea punches, lemonade, and good 'ole well water, plus some cheese, crackers, and other treats. A basket on the breakfast room table is for optional $1 cash donations to help us defray our expenses. All the door goes to the artist, plus any product sales. Our goal is to bring some of the most diverse performing artists who perform 'way above the bar' but have chosen to go down the path of being an independent songwriter, some of whom produce their own music or select excellent producers to record their one-of-a-kind music. To learn more about us, visit www.WildscapeAcres.com or go to Harmony House Concerts Group on Facebook.
After the concert, there will be an optional Texas Picnic Potluck Dinner outside (if weather permits). If possible, let me (Faye) know what you plan to bring so I can see that we have variety (e.g. not 20 different versions of potato salad). I can make suggestions, if you wish. When making reservations, please indicate whether you plan to partake of this feasting time together with Bob and us. Also, notify us if you need directions for getting to Harmony House.
Bob will be staying overnight, so we will count on a Song Circle after the Potluck. It may be inside or outside —whatever feels best! Bring your instruments and share your talent. If you don't play an instrument, you can just hum, sing along, or listen.
More about Bob Livingston:
There are so many aspects of this Cosmic Cowboy, it's difficult to be brief. Singer-songwriter, Bob Livingston has never been a traditional Texas country musician living the honky-tonk life — even though he's spent more than his share of time on the roadhouse circuit with some of the most colorful and rambunctious musicians in Texas. As a member of Austin's legendary Lost Gonzo Band, Livingston toured and recorded with such musical visionaries as Jerry Jeff Walker, Michael Martin Murphey, Ray Wylie Hubbard and many more. Livingston played an integral role in helping to create the music that first earned Austin the designation of "Live Music Capital of the World".
Livingston has seen a lot of the world since growing up in musically fertile West Texas. Hailing originally from San Antonio, he moved to Lubbock as a boy where his interests turned more 'Cosmic' than 'Cowboy' and prompted him to delve into the music and mysteries of many cultures. Traveling since the 80s as a Music Ambassador for the U.S. State Department, Livingston has taken Texas music as far afield as India, Pakistan, Nepal, Bangladesh, Africa, Vietnam and the Middle East—demonstrating again and again the unique power that music has to build bridges between peoples of the world. As Livingston says, "When all else fails, music prevails." These tours earned him the honor of being appointed Ambassador of Goodwill by the State of Texas and Austin's International Music Ambassador by the City of Austin.
This world-traveled view was reflected in Livingston's 2004 CD Mahatma Gandhi & Sitting Bull, a romp through juxtapositions of east and west. His CD, Gypsy Alibi, defines a new musical direction. Released in 2011 on New Wilderness Records, this CD won Album of the Year at the Texas Music Awards 2011.
These days, Livingston is a busy man. While playing over 150 shows a year, he is also writing a memoir for Texas Tech Press, plays with a multi-cultural band from Texas and India called Cowboys & Indians.
The band Cowboys & Indians defies expectations at every turn. Unlike the children's game, these cowboys and Indians are allies, not enemies, and the Indians come from India, not the Wild West. Livingston got the idea for the group while he was in India for a U.S. State Department cultural exchange tour. Local musicians, using their indigenous instruments, sat in almost every night. Everyone mixed themes, influences, rhythms, instrumentation, and insights from both East and West. They played songs and yodels from Texas and ragas and chants from India. A newspaper in New Delhi called it "country and eastern music" and the International Herald Tribune said, "The Wild East!"
Inspired by these experiences, Livingston wanted to take the sounds and charm of the Indian shows back to Texas. He got together with an old songwriting friend, Bobby Bridger, and they wrote new songs and tossed around ideas for a show in Texas schools and theaters. The concept for Cowboys & Indians began to take shape, and some great musicians, drawn from the vibrant Austin international musical community, joined up. The result is a unique combination of eastern and western music and lore—a cultural sharing experience: guitars and sitars, incense and cactus, boots and bare feet, Mahatma Gandhi & Sitting Bull meet Buddy Holly & Ravi Shankar!
The Cowboys & Indians play in theaters, clubs, schools and other venues throughout Texas. This project is supported in part by the Cultural Arts Division of the City of Austin Economic Development Department. Over 45,000 students in Texas have seen the show. Livingston and Bridger are developing the show into a full-fledged musical and plan to present it sometime in 2020 at a local Austin theater.
To learn even more about this progressive cowboy now living in Austin, TX, visit his website, www.boblivingstonmusic.com for videos, songs, more of his phenomenal history, or check him out on YouTube.