Local News
Yadira Solano named City of Bonham Employee of the month, resident concerned over sand plant's possible impact on Lake Bonham
May 15, 2019
Bonham, Texas -- The City of Bonham's Employee of the Month for April 2019 is Yadira Solano; this most recent recognition of an exemplary public servant came Monday, May 13, 2019 at a regular meeting of Bonham City Council.
An employee of the city since September 2015, Ms. Solano is the Assistant Court Clerk in the City of Bonham Municipal Court. Her ready smile and polite and courteous attitude with coworkers, as well as the citizens she serves, are just a few of the reasons Yadira was selected as Employee of the Month. She is always willing to help in whatever capacity she can, whether it is performing her own duties, assisting police department personnel, lending a hand to utility billing personnel, or translating for any department. Her supervisors and peers feel Yadira is a great asset to the City of Bonham and its citizens.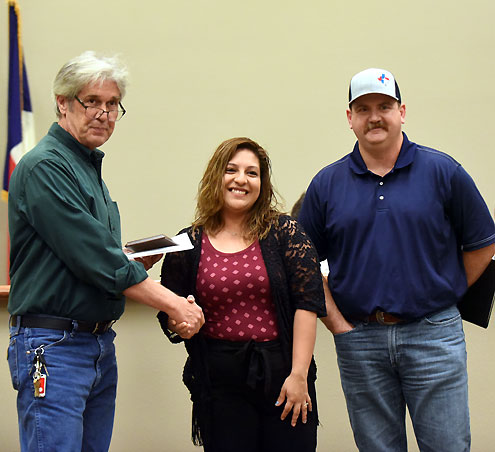 (L-R) Bonham City Councilmember Bill Chapman; Yadira Solano, Employee of the Month for April 2019; and Brad Nichols, Director of Human Relations for the City of Bonham
Each Employee of the Month receives four hours of paid time off and a $50 gift certificate. At the end of the year, the Employee of the Year will receive eight hours of paid time off and a $250 gift certificate. The awards are part of an initiative to provide more incentives for city employees.
*****
The regular meeting Monday evening began with councilmembers approving minutes of the April 8 regular meeting and minutes from special meetings held April 22 and May 7.
*****
Dave Struchtemeyer, CPA, Director of Finance for the City of Bonham, presented the April 2019 financial report to Bonham City Council.
"Revenue and Expenses on the General Fund continue to track very close to their budgeted amounts," Mr. Struchtemeyer stated. "The majority of General Fund revenues are generated from ad valorem taxes which are primarily collected in the months of October through January which is why we have collected over 75% of our revenues by the end of April. General Fund expenses are more linear, so for the rest of the year expenses will be greater than revenues each month. We currently have no reason to anticipate any budget shortfalls for the Fiscal Year but will continue to monitor expenses closely."
Struchtemeyer noted that the Water Sewer Fund is also tracking very close to the budget. Revenues are down slightly, in large part due to the lower-than-expected water demand, although this was offset by lower expenses primarily due to being understaffed.
"We continue to progress with the new accounting and billing system," added Struchtemeyer. "This month we have brought the Payroll module online and we are anticipating bringing the Water Sewer Billing module online in July."
This week, Struchtemeyer will begin working with department heads on the Fiscal year 2020 budget.
*****
Three residents addressed Bonham City Council during the segment of the meeting reserved for comments from citizens.
Emily Porter expressed gratitude for citywide cooperation during a very successful Heritage Day Festival on May 4, 2019.
"It takes every one of us working so hard," Ms. Porter remarked.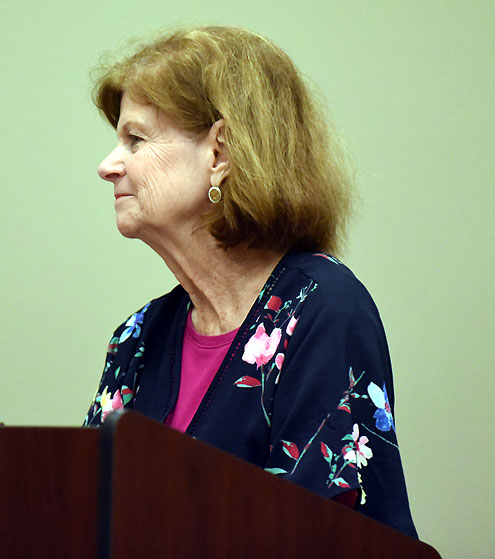 Emily Porter
Porter singled out Bonham Mayor Roy Floyd, Ronnie Hill and his crew from the parks department, Howdy Howdeshell and his crew from the street department, and the Bonham Police Department for making Heritage Day safe and enjoyable for residents and visitors.
David Keene, who serves as ambassador of the bois d'arc kingdom, presented a writing pen created out of local bois d'arc wood to new councilmember, Bill Chapman.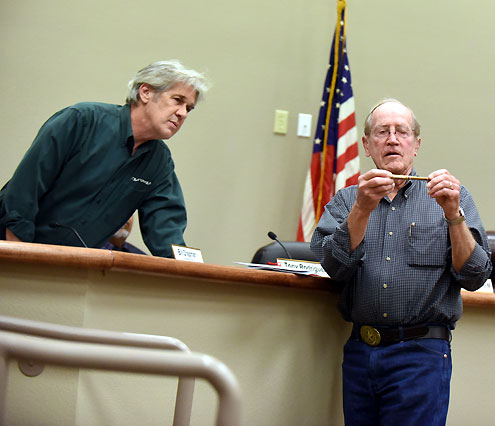 David Keene, right, presents a personalized writing pen made of local bois d'arc wood to Bonham City Councilmember Bill Chapman.
These bois d'arc pens made by Mr. Keene have been presented to local and state officials, as well as U.S. Congressmen and a U.S. Senator.

Robert Lee told Bonham City Council that he feels a sand plant near Ravenna is contaminating Lake Bonham by causing more silt to wash down Wolf Creek during storm water runoff.
Mr. Lee contends that the color of the lake has been altered and he has notified Texas Commission on Environment Quality (TCEQ).
"My question to city council, and everyone here, is what are we going to do about it?" Lee asked the crowd.
The City of Bonham is waiting on an analysis by TCEQ to determine a course of action.
*****
Rayleen Bingham, Section 8 Program Manager for Texoma Council of Governments, spoke to city council regarding the 500+ households in Fannin and Grayson counties she manages, and complaints about conditions of some rental housing stock in Bonham.
"A lot of communities are moving toward a rental property ordinance," Ms. Bingham explained, adding that fees could offset much of the cost of the program.
Bingham said she inspects 5-10 rental properties each week, of which 1-2 will fail the inspection.
*****
Bonham City Council denied a request by Oncor Electric Delivery Company to amend its distribution cost recovery factor and therefore increase distribution rates within the city.
*****
Bonham Police Chief Mike Bankston addressed Bonham City Council with an update regarding an initiative by Bonham Police Department to identify junked or abandoned vehicles as described by Ordinance No. 774 of the City of Bonham. Chief Bankston estimates that 150-200 cars in the city were in violation of the ordinance when the effort got underway in May 2019. Residents are being issued citations to appear in court and fines can run as high as $200 per day.
*****
Bonham City Manager Sean Pate read a letter from St. Elizabeth Catholic Church, thanking the city for the use of Bonham Civic Center and expressing gratitude to Ronnie Hill for preparing and cleaning the facility.