Local News
Summer Reading Program at Bonham Public Library
May 15, 2019
Bonham, Texas -- Summer will be here before you know it. So, make plans now to be part of our Summer Reading Program because Reading is a Blast. The theme this year is Universe of Stories. Registration begins on May 28 and you can register at the Library. Pick up your reading log, a bookmark, and a gift just for registering.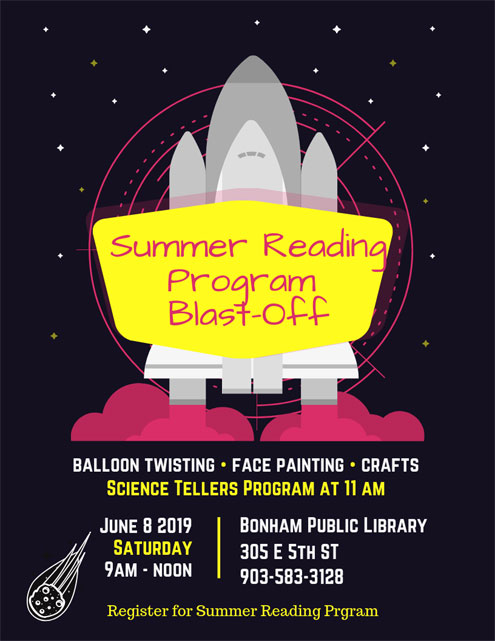 Join us for the kickoff on June 8 from 9:00 a.m. to noon here at the library. There will be face painting, balloon twisting and crafts from 9:00 a.m. to 11:00 a.m. and at 11:00 a.m. we will have Science Tellers. Don't miss this action-packed and educational alien adventure using science experiments for special effects. It's totally out of this world!
This summer we will be having seven weeks of performers on Tuesdays at 10:00 a.m. starting on June 11 at the Family Life Center, 200 W. 8th St.
June 11: All About Animals
June 18: The Que Pastas (Singing Group to inspire you and get you dancing)
June 25: Magical Experience with Marty Westerman (levitation and more)
July 2: ARoo4U (Come meet a Kangaroo and more animals)
July 9: Comedy and Magic with John O'Bryant
July 16: Texas Tales with Rambling Rita
July 23: Magical Balloon Guy who puts himself into a balloon
July 30 is our Celebration Party that will be held at the Bonham Armory (1100 West 5th Street) from 10:00 a.m. to noon. The Frontiers of Flight Museum will bring their Mobile Planetarium and STEM stations and the Library will being Robotics and more plus we will eat Hot Dogs and Ice Cream. Thanks to the Chi Lambda Foundation for sponsoring the Frontiers of Flight Museum.
To complete your reading challenge this year, Ages 2-6 will need to read 25 books and finish the activity sheet and Ages 7-18 will need to read for 25 hours. There are three age groups: 2-6, 7-12 and 13-18. When you finish you will receive an alien glow in the dark t-shirt and your name will go into grand prize drawings. We are giving away these prizes this summer: Telescope, Kindle Fire, a Rocketship Tent Playhouse and more.
There will also be weekly TNT programs on Mondays at 4:00 p.m.
Space Sticky Note Wall Art: June 10
Soda Rocket and Pizza: June 17
Crafts: Space Junk: June 24
Majestic 6: Movie* (12+): July 5
Out of this World Art: July 8
Space Escape Room: July 15
There are a few special events just for tweens and teens:
Students age 12+ who register for the SRP and complete 12 hours by July 3, 2019 are eligible to attend a FREE showing of Spider-Man: Far from Home on July 5, 2019. Limited to the first 30 students. Time of showing TBA.
August 2: Teen Late Night at the library: 5:00 p.m. to 9:00 p.m. – Food, Fun and Games.
We will also have Storytime on Wednesday mornings at 10:00 a.m., and Friday Movies at 2:00 p.m.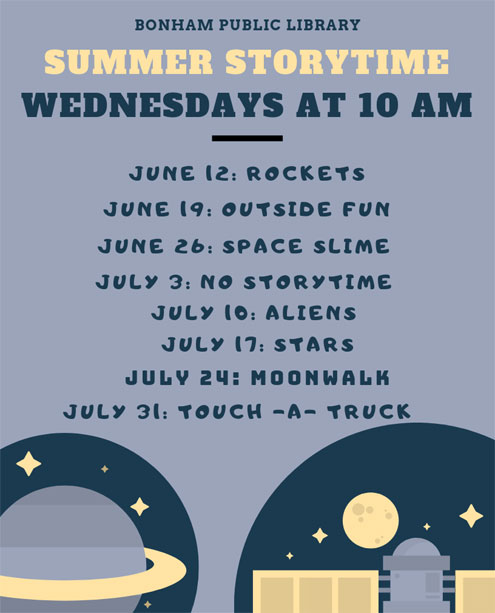 On July 31 from 10:00 a.m. to noon we will have a Touch-A-Truck Event. Children and their families will be able to explore and play with vehicles of all types: emergency, public services, utility, construction, and big rigs. The children can touch, climb on the vehicles, and ask any questions about the vehicles.
There will also be weekly prizes and all you must do is check out a book and put your name in for the drawing. Prizes like: Bag of Candy from Lil Bit O Sugar, Juba Pizza, Books, Tropical Sno and more.
We would not be able to do this without financial support. We want to thank the Summer Shaud family for their generous donation in the memory of Janice Finnell. Thanks also to Clayton Homes, Breakfast Stop, Golden Chick, thanks to the Chi Lambda Foundation for sponsoring the Frontiers of Flight Museum and to the Bonham Public Library Board for their financial support.
Thanks to the following businesses and organizations for their donations: Texas Rangers Dairy Queen, Muddbones, Roma, Los Amigos, Luna Azul, Lil Bit O Sugar, Subway, Tropical Sno, Juba, Nautilus Total Fitness Center, Kwik Check, Top Golf, Tractor Supply and San Luis.
We are also having two Space Camps this summer. The first one is for ages 6-12 on June 17-21 and the second one is for ages 12-18 on August 5-9. Register online or at the library.
All the programs are free.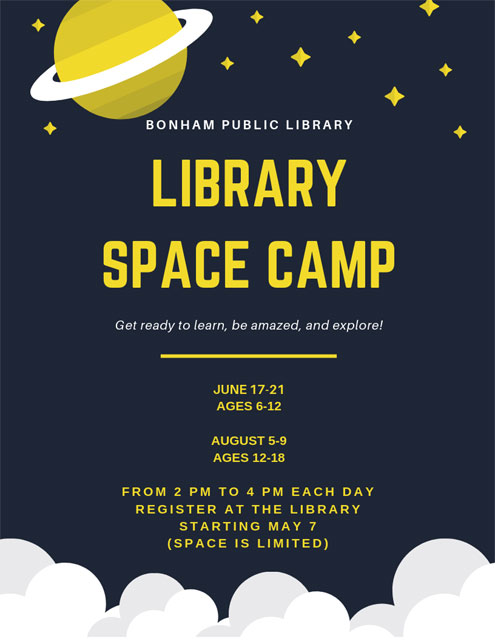 There will also be an Adult Summer Reading program this summer. All you need to do is check out a book, read it and write a short book review about it. After you are done turn the book review in for weekly drawings. You can win lunch at Luna Azul, Tractor Supply gift card, certificate from Roma, and more.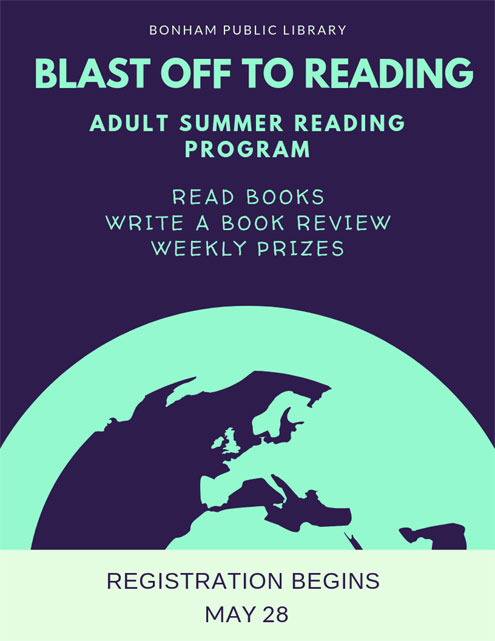 Let's have a blast reading this summer!
We hope to see you this summer!