Sports
2019 Park Place Dealerships – Texas Rangers Triple Play Game Show Spectacular breaks record
May 15, 2019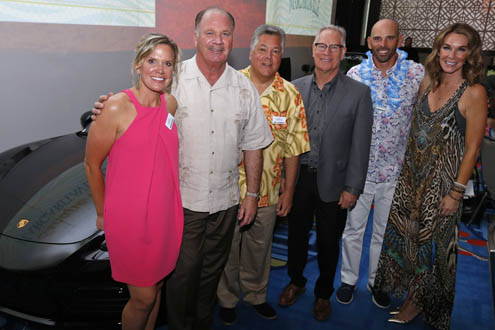 Texas Rangers Baseball Foundation executive director Karin Morris; and Park Place Dealerships president Jordan Case; with one of the Texas Rangers Baseball Club owners, Rangers COO and chairman of the Texas Rangers Baseball Foundation Board Neil Leibman; Park Place Lexus Grapevine GM Gary Venner; Rangers manager Chris Woodward; and his wife, Texas Rangers Baseball Foundation Advisory board member Erin Woodward
With a playful theme of "Escape to Margaritaville," fans filled the Hilton Anatole ballroom May 5th looking for rare treasures, unbridled laughter and fun encounters with their favorite players and coaches at the sold-out 2019 Park Place Dealerships – Texas Rangers Triple Play Game Show Spectacular. And the Rangers hit a grand slam!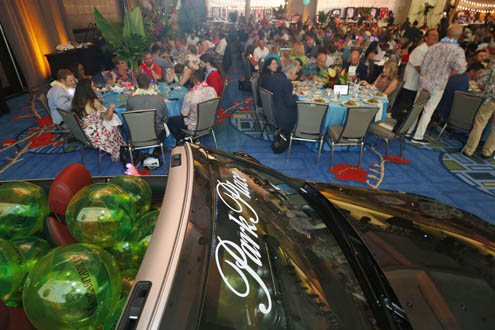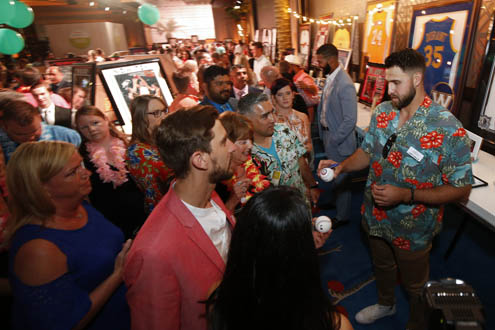 Rangers fans line up for autographs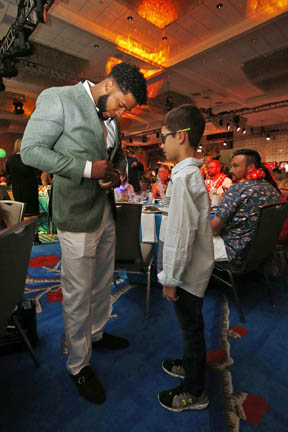 Elvis Andrus signs a ball
"The Park Place Dealerships - Texas Rangers Triple Play has always been our largest fundraising event and this year's total made a record $770,000," said Karin Morris, executive director of the Texas Rangers Baseball Foundation. "The funds raised at this event directly impact our programming and partnerships. Since last year's event, we have welcomed more than 25,000 kids to the Texas Rangers MLB Youth Academy at Mercy Street Sports Complex, presented by Toyota."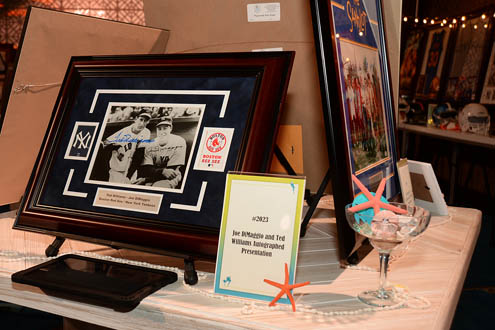 Texas Rangers Baseball Foundation executive director Karin Morris with Rangers reporter Emily Jones
The annual event featured Texas Rangers players, coaches, broadcasters, and alumni. Fans enjoyed unparalleled access to their favorite Rangers for autographs, photos and lively baseball conversations with a player, coach, former Rangers player or staff member seated at their table.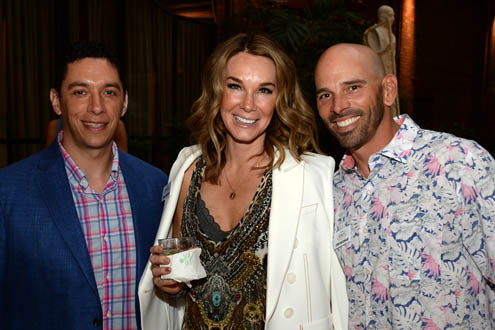 Rangers GM John Daniels with Erin & Chris Woodward, Rangers Manager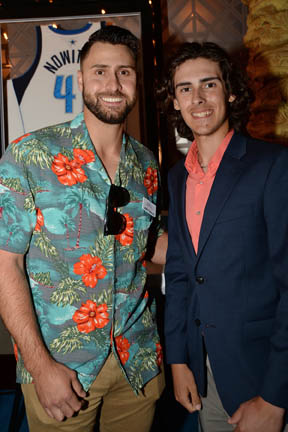 Rangers outfielder Joey Gallo poses with a fan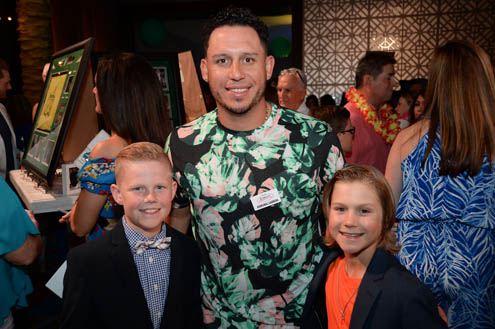 Rangers 3rd baseman Asdrubal Cabrera poses with young fans
"This is the 15th year Park Place has been involved in this event and every year it surpasses our expectations," said Jordan Case, Park Place Dealerships president. "Supporting the Texas Rangers Baseball Foundation ensures children throughout North Texas will have opportunities to succeed through scholarships, new training facilities, and programs. Together, we are making our community stronger."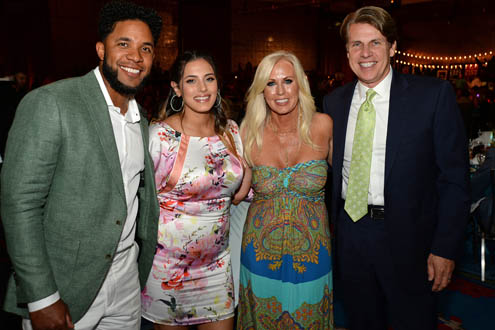 Elvis Andrus with wife Cori Andrus and Lori & Joseph Turner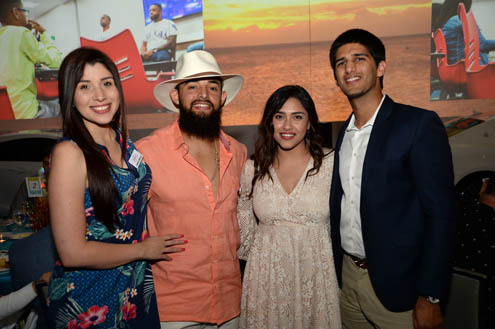 Liusca Criollo, Rougned Odor, Anam Ali, Aamir Hashambhai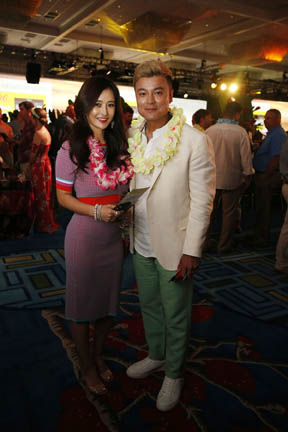 Won-Mi Ha and Shin Shoo Choo
The live and silent auctions raised more than $225,000, also a record. The highest amount in the live auction was a $31,000 bid for a trip on a private jet with Hall of Fame catcher Ivan "Pudge" Rodriguez to see the Rangers play against the Angels in Anaheim. The amount was doubled when the Rangers agreed to allow both of the two top bidders to take the trip for a total of $62,000 for the dream trip.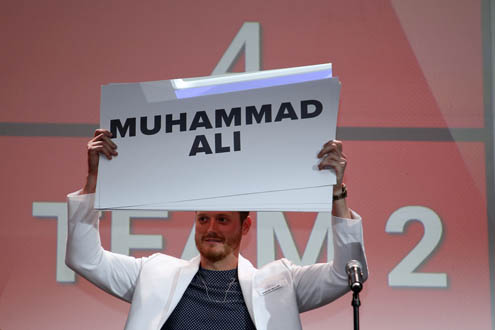 Rangers pitcher Shelby Miller plays Heads Up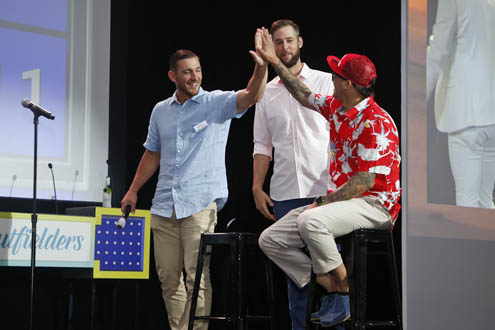 Rangers players Jeff Mathis, Chris Martin, and Jesse Chavez play Heads Up
Other notable experiences included a roadtrip to Boston to see the Rangers play the Red Sox that included transportation on the team plane and dining with Hall of Fame pitcher Dennis Eckersley; a trip to the Dominican Republic for a tour of the Rangers' new Baseball Academy; private hitting and pitching lessons with current Rangers players, and many other exclusive experiences. Memorabilia from the worlds of sports and entertainment included a license plate signed by the stars of "Ferris Bueller's Day Off;" a framed photo autographed by legendary players Ted Williams and Joe DiMaggio; an autographed seat back from the original Texas Stadium; a photo signed by the cast of "The Sandlot;" and countless signed jerseys and equipment from a wide range of sports.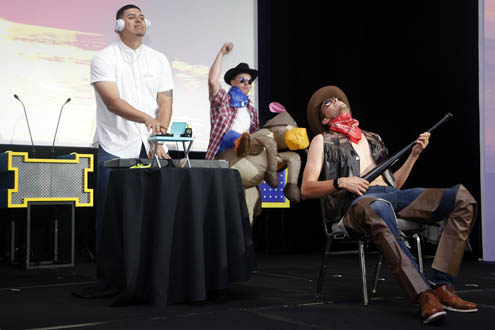 Rangers' rookies Kyle Dowdy, Brett Martin, Adrian Sampson and Ariel Jurado perform a skit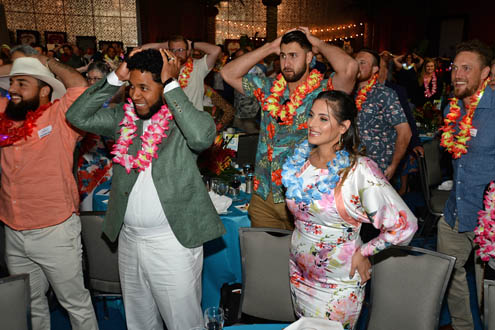 Rangers players compete with fans in Heads or Tails game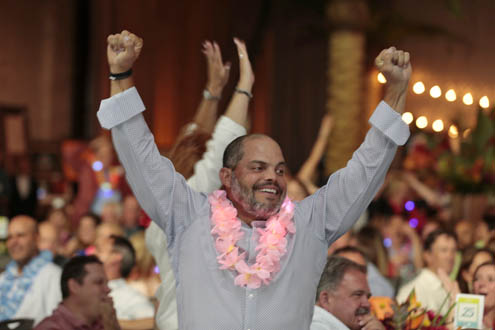 Hall of Fame catcher Ivan "Pudge" Rodriguez plays Heads or Tails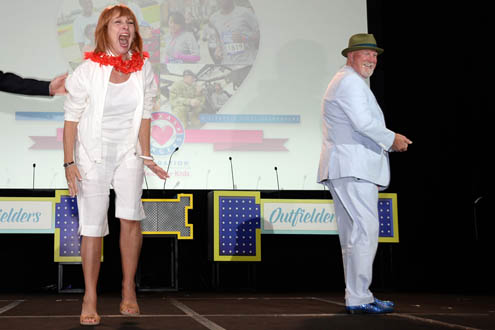 Leta Farnsworth reacts to winning Paul McCartney and Billy Joel concert tickets in the Heads or Tails game
Fans and players competed against each other in a spirited game of Heads or Tails. Tim Willett, auctioneer, would flip a coin and contestants placed their hands on either their head or derriere. If the coin landed on tails, all those with hands on their heads would sit down. Contestants were eliminated round by round until only two people were left on stage. Willett tossed the coin for one final flip, and Leta Farnsworth won tickets to the Paul McCartney and Billy Joel concerts later this year at Globe Life Park.
The highlight of the evening is always when the players compete in a pair of game shows. The entertainment began with a new game: Heads Up, where a player holds a card up to their forehead with a word or name written on it. Their teammates then give them clues to try to guess the answer. Rangers pitchers Jesse Chavez and Chris Martin were teamed up with catcher Jeff Mathis to battle Rangers' bullpen coach Oscar Marin and pitchers Shelby Miller and Drew Smyly. The resulting antics were hilarious as players stammered and shouted answers under pressure as they tried to beat the clock. Jesse Chavez was holding a card with "Kanye West" on it and his teammates prompted him with, "Kim Kardashian's husband!" To which Chavez replied, "Chloe?" The audience erupted in laughter.
Hall of Fame broadcaster Eric Nadel (center) moderates Fielders Fued
Infielders Isiah Kiner-Falefa , Logan Forsythe, Rougned Odor and Elvis Andrus respond to Rangers Hall of Fame broadcaster Eric Nadel in Fielders Feud
The Rangers' rookies never fail to entertain. Kyle Dowdy, Brett Martin, Adrian Sampson and Ariel Jurado performed a hysterical skit to "Old Town Road" by Lil Nas X, featuring Billy Ray Cyrus. Don't worry. They won't be taking this show on the road any time soon. But it certainly made for some memorable moments.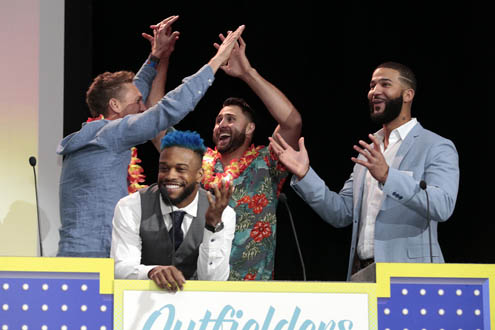 Outfielders Hunter Pence and Joey Gallo celebrate a correct answer with Delino DeShields Jr and Nomar Mazara during Fielders Feud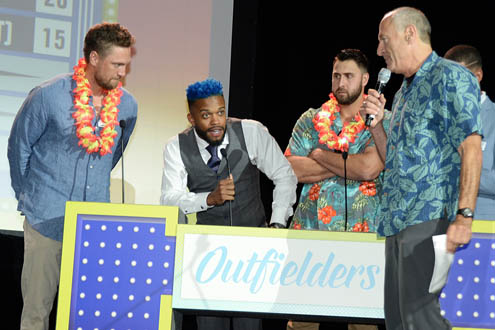 If you think the Rangers are competitive on the field, imagine what happens when the infielders match wits with the outfielders in Fielders Feud, a popular spinoff of the popular Family Feud TV game show. Players tried to guess the top answers given by 100 Rangers fans in a survey taken at Globe Life Park. Both teams were stumped when it came time to guess the fans' responses to the question, "What are your favorite memories from Globe Life Park?" Players were able to match answers such as "Beltre's 3000th hit" and "Striking out A-Rod in the ALCS." But the crowd let out a gasp when "Rougie's Punch" was not one of the top answers.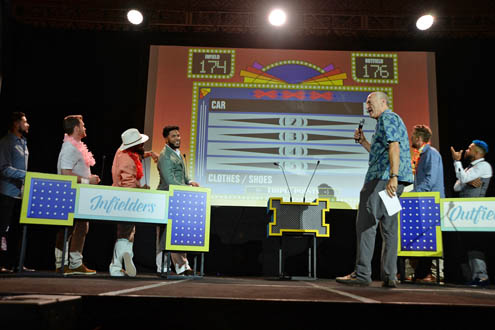 "The Texas Rangers Baseball Foundation was recognized last year with the Allan H. Selig Award for Philanthropic Excellence for our Richard Greene Scholars program," concluded Karin Morris. "As part of this recognition, the Texas Rangers Baseball Foundation will receive a $10,000 grant from Major League Baseball Charities."
Named after the former Mayor of Arlington who led the campaign to keep the Rangers in Arlington and construct Globe Life Park, the Richard Greene Scholars program provides a $10,000 scholarship every year to a student at each of the Arlington ISD high schools. During the recipient's senior year, he/she rotates through an internship every six weeks at different community service and local government entities.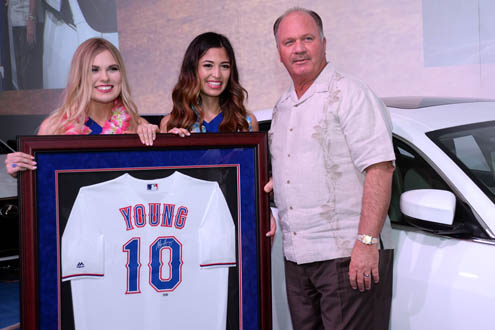 Park Place Dealerships president Jordan Case accepts a framed Michael Young jersey from the Texas Rangers
Now in its 22nd year of operation, the Richard Greene Scholars program has provided more than $1.2 million in college scholarships to Arlington high school students. In addition to financial aid, the program has become a cornerstone leadership development program by engaging recipients with local civic and business communities, including Arlington ISD, the Arlington Chamber of Commerce, the City of Arlington, the Texas Rangers and the Rangers Baseball Foundation, and several other civic partners.
Since its inception in 1991, the Texas Rangers Baseball Foundation has invested more than $30 million in our community to help children through support of programs including the Texas Rangers MLB Youth Academy at Mercy Street Sports Complex, presented by Toyota; youth fitness and wellness programs like the just keep livin programs; scholarships and summer programming for children in challenging circumstances.
Ken Schnitzer founded Park Place Dealerships in 1987 with a single Mercedes-Benz dealership on Oak Lawn. Today, Park Place employs more than 2,000 people and operates 16 full-service dealerships representing luxury brands including Lexus, Mercedes-Benz, Porsche, Volvo, Jaguar, Land Rover, Rolls-Royce, Bentley, McLaren and Maserati. For more info, visit parkplace.com.