Local News
Honey Grove Library honored as Honey Grove Business of the Year
May 16, 2019
Honey Grove, Texas -- The Honey Grove Library and Learning Center was honored as Honey Grove Business of the Year by the Honey Grove Chamber of Commerce at its Awards Banquet on Saturday, May 11.
Accepting the honor were Hall-Voyer Board members Gary Fernandes (Chairman) and members Rhonda Grubbs Cunningham, Barbara Caffee, Mary Gail Vincent and Deidra Jackson. The Hall-Voyer Foundation operates the Library and its endowment supports most the Library expenses.

The theme of the evening was "New Chapters," anticipating the changes that will be coming to Honey Grove with the new lakes, the widening of Highway 82 and the movement to the east of folks from the Metroplex.
In 2018 the Hall-Voyer Board and interested citizens began a Capital Campaign to restore its aging buildings and have to date raised around $680,000 in donations, grants and pledges for the buildings. Work is ongoing. With the addition of an elevator an additional 3,600 square feet of space will be available for programs and community events. Work to date has already transformed the exterior of the beautiful old buildings, and is the most significant upgrading of the Honey Grove Square since the building of the lovely post office.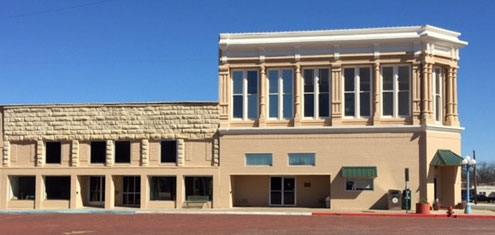 Chamber President Lore Lane in presenting the award said that the improvements to the Library were just the "first" of the new chapters for Honey Grove. She encouraged everyone to visit the Library to see the progress to date.
Hall-Voyer Board Chairman Gary Fernandes said as he accepted the award that the goal was to have the Honey Grove Library be the best small town library in America.